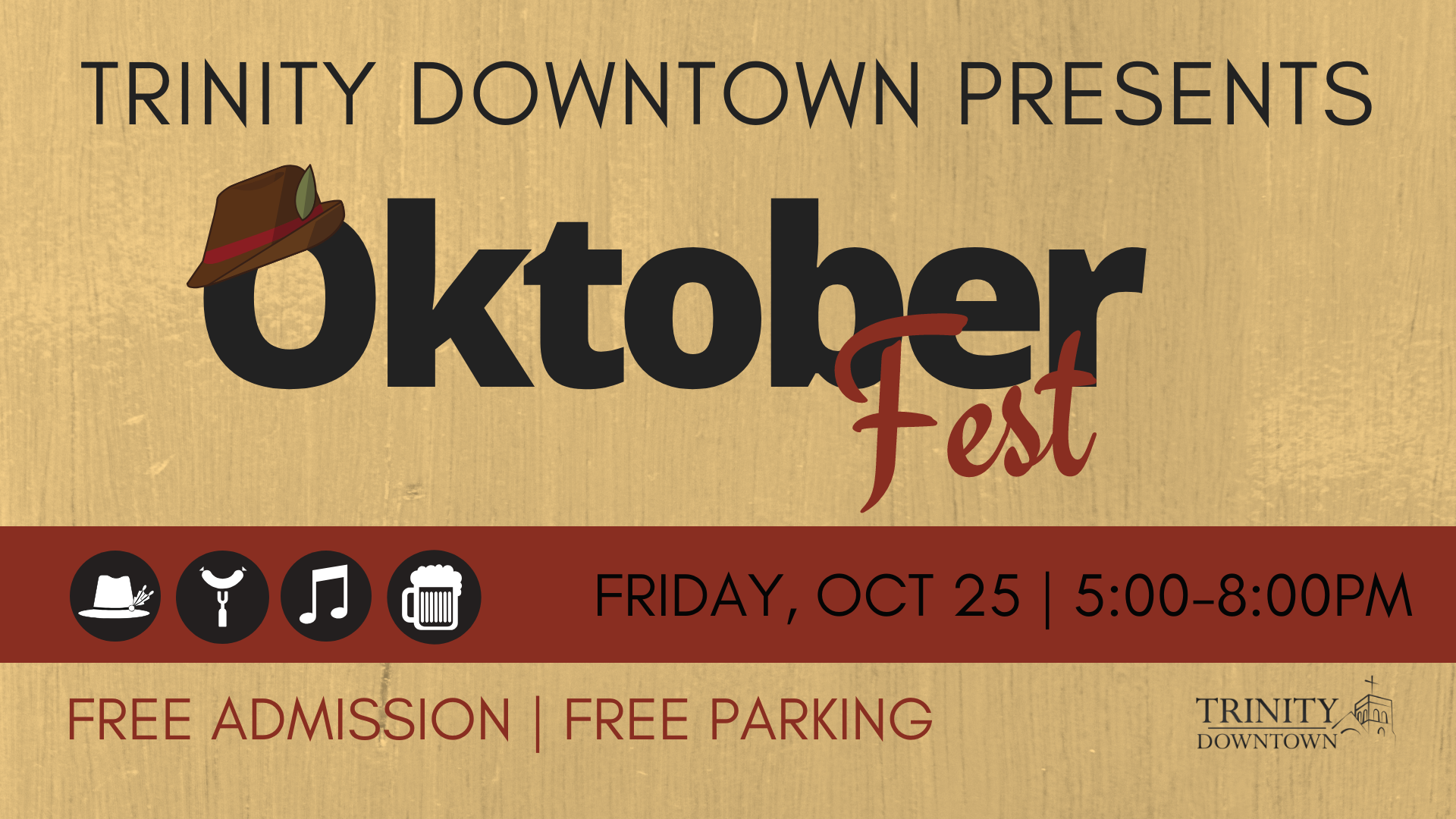 Event Details
Please be our guest at the 2019 Oktoberfest family festival at Trinity Downtown on Friday, October 25th from 5:00-8:00 pm. Enjoy live music, great food, mini musical performances, festival games, German beer and wine in the Bier Garten, a wandering monks, pumpkin patch games and so much more. This is a family friendly event for all ages – there's something for everyone. Free Admission. Free Parking. Share on your page and in your community groups – this is a community event and all are welcome!
Martin Luther
What was the Reformation all about back in 16th century German? Did you know that 2017 was the 500th anniversary of the Reformation! What do you know about Martin Luther, Wittenberg, and the 95 Theses? By the end of the night, you'll know more! But the Reformation was, first and foremost, all about the Gospel of Jesus Christ. It was then, and it still is now… andso we say, "It's Still All About Jesus." As us about our Christmas shirts!
Parking
Free parking on Trinity's campus – Enter at 123 E. Livingston Street and make use of Trinity's interior parking lots and field parking. Free street parking is also available after 6:00 pm.
Food & Drink
Food Truck ChiPhi and Green Coat Catering.  (Chi Phi Menu)
Adult Beverages
You'll find the Bier Garten in the Fellowship Hall with German beer and wine. Bring your ID and meet some of Trinity's Elders who will serve as your Bier Garten hosts for the evening.
Bavarian Village
The gym is transformed into a fall festival for your kids to enjoy! Music, interactive displays on Reformation history, crafts, servant projects, and more! Have a blast, but please try to stay with your kids when they are in the gym, it can get pretty crazy fun in there!
Servant Project – Loving Our Neighbors
Take part in any number of fun community service projects offered in the gym – we are blessed, to be a blessing to others! Operation Christmas Child will be our service project this year. Opportunities to serve & contribute will include bringing donations of gifts to put into the boxes, donations of funds to pay for shipping of the boxes once complete, and giving time to pack the boxes with items that have been donated over the previous month. Shoebox gift suggestions based on age and gender can be found here https://www.samaritanspurse.org/operation-christmas-child/what-goes-in-my-shoebox-suggestions/
Connect
Check out information tables in the Bavarian Village (also known as the gym) to meet Peace Comfort Dog, hear about Trinity's of LWML and Operation Barnabas and other ministries of Trinity, learn more about Trinity Downtown (worship, Bible studies, Sunday School, volunteer opportunities, etc) and Trinity's Child Development Center.  You'll also learn more about local service organizations and engage with leaders from local ministry partners.
Drawings and Prizes
Everyone who attends is entered to win a free prize drawing, and will receive a program/scavenger hunt map outlining the evening's events and pointing you toward fun and prizes! (Don't forget to find the wandering Monk for special treasures)
Live Music
Live music throughout the evening in the courtyard, and performances in the Sanctuary by various Music Ministry groups here at Trinity.
Pumpkin Patch
Trinity's Downtown Orlando Pumpkin Patch will be open for sales (and games) during Oktoberfest, so don't forget to pick out your favorite pumpkin!  Your purchase supports Trinity Lutheran School's Child Development Center.  If you visit the Pumpkin Patch before the sun sets, be sure to take some pictures – several areas are set up for great shots! JUST WAIT until after dark for some fun and not-so-spooky games in the pumpkin patch after dark.
Invite
This event is for you! So invite your friends and family! Share the invitation and invite someone new to be your guest! It's a great way for someone new to meet the Trinity family and have some fun. The more the merrier! Plan to hang out as if in your own back yard. This is a family friendly event with lots of activities for the adults and kiddos.