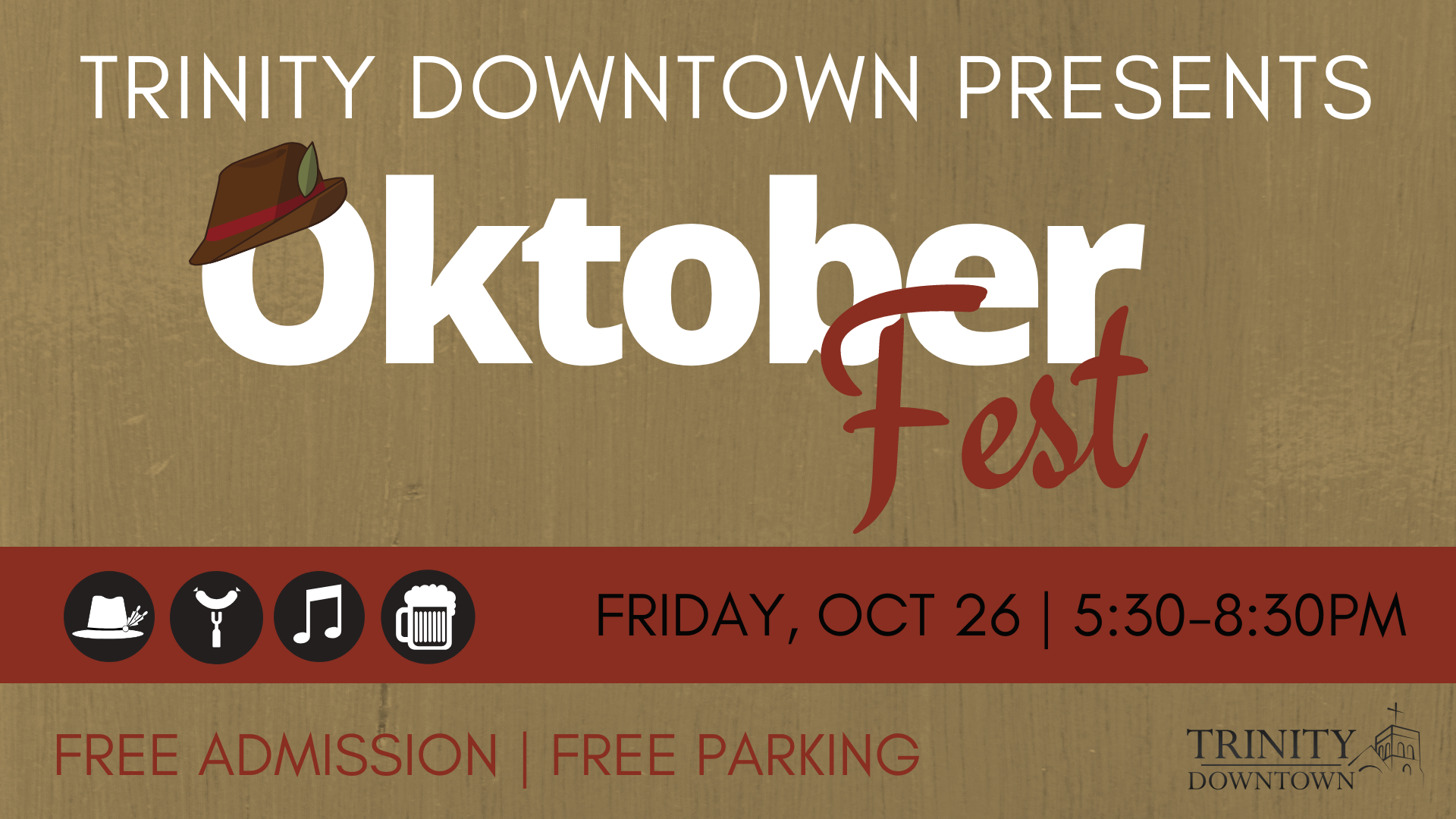 Event Details
Parking
Free parking on Trinity's campus – Enter at 123 E. Livingston Street and make use of Trinity's interior parking lots.  Free street parking is also available after 6:00 pm.
Food & Drink
Food Trucks: ChiPhi and German Grill.  
Adult Beverages
You'll find the Bier Garten in the Fellowship Hall with German beer and wine. Bring your ID.
Bavarian Village
The gym is transformed into a fall festival for your kids to enjoy!  Music, interactive displays on Reformation history, crafts, servant projects, and more!  Have a blast, but please try to stay with your kids when they are in the gym, it can get pretty crazy fun in there!  
Martin Luther
What was the Reformation all about back in 16th century German? 2017 was the 500th anniversary of the Reformation!  What do you know about Martin Luther, Wittenberg, and the 95 Theses?  By the end of the night, you'll know more! But the Reformation was, first and foremost, all about the Gospel of Jesus Christ. It was then, and it still is now.
Servant Project – Loving Our Neighbors
Take part in any number of fun community service projects offered in the gym – we are blessed, to be a blessing to others!  
Connect
Check out information tables in the gym to learn more about local service organizations, ministry partners and opportunities to connect at Trinity.  
Drawings and Prizes
Everyone who attends is entered to win a free prize drawing, and will receive a program/scavenger hunt map outlining the evening's events and pointing you toward fun and prizes!
Live Music
Live music throughout the evening in the courtyard by Mike Conner, a performance by Trinity's Handbell Choir at 6:00 pm in the Sanctuary, an interactive organ demo for kids "Bats in the Belfry" in the choir loft at 6:30 pm, and "Saints Alive: The Organ in All its Glory" at 7:00 pm in the Sanctuary also by David Ludwig, Jr. Great music to set the tone for your evening of fun!
Pumpkin Patch
Trinity's Downtown Orlando Pumpkin Patch will be open for sales (and games) during Oktoberfest, so don't forget to pick out your favorite pumpkin to purchase to support Trinity Lutheran School while you're here and take some photos too!  JUST WAIT until after dark for some fun and spooky games in the pumpkin patch after dark.  Don't worry,  we have a flashlight for you! 
Invite
This event is for you!  So invite your friends and family!  Share a link to this page or the Facebook event and invite someone to be your guest!  The more the merrier! Plan to hang out as if in your own back yard. This is a family friendly event with lots of activities for the adults and kiddos.