Comfort Dog Ministry
A Comfort Dog Ministry brings the mercy, compassion, presence, and proclamation of Jesus Christ to those suffering and in need.
Trinity Lutheran Church has partnered with Lutheran Church Charities (LCC), a national Lutheran Church Missouri Synod ministry based in Northbrook, IL, to utilize the unique traits of a dog to bring comfort, help and hope by visiting individuals in our community, and touching people who are hurting or in need. The Comfort Dog Ministry is a bridge for compassionate ministry, opening doors for conversation about faith and creating opportunities to share the Mercy, Compassion, Presence, and Proclamation of Jesus Christ.
Sometimes comfort walks in on four paws…
Peace is an AKC certified purebred Golden Retriever who has had over 2,000 hours of training to a service dog level and understands some thirty commands. Comfort Dogs are taught to be passive and gentle when working with the public. A dog is an effective comforter because they make people feel safe…….they are non-judgmental and demonstrate unconditional love. Their simple presence is calming and healing and encourages people to talk about their distress and begin the healing process. Comfort Dogs calm people, work with special needs individuals, veterans and the elderly, and are used in counseling situations. They also deploy to crisis or disaster situations.
Peace has two vests. She is certified as a K-9 Comfort Dog and is also Kare-9 Military Ministry certified.
A Comfort dog work six days a week sharing care and compassion in schools, senior centers/nursing homes, hospitals, veteran/military organizations and events, community organizations, charities and also deploy in crisis or disaster situations when requested. The ministry will only go where invited, it will never intrude.
Fundraising Goals
Partner with us in supporting this LCC K-9 Comfort Dog ministry in Orlando through Trinity Downtown. Trinity's Comfort Dog Ministry is funded entirely by the generous donations of people like YOU.
COMPLETE! Fundraising Goal #1 Completed: $15,000
COMPLETE! Fundraising Goal #2 Completed: $10,000
CURRENT Fundraising Goal #3: $7,000
Reserve for out of state deployments
Interstate travel for visits to Lutheran churches
health and medical care for Peace
Community Partners:
Partner with us in supporting this LCC K-9 Comfort Dog ministry through Peace's Go Fund Me page.
Trinity Lutheran Church Members:
Donate through Trinity's contributions portal link above (which will add your contribution to your annual giving statment).
Trinity's Comfort Dog Ministry Team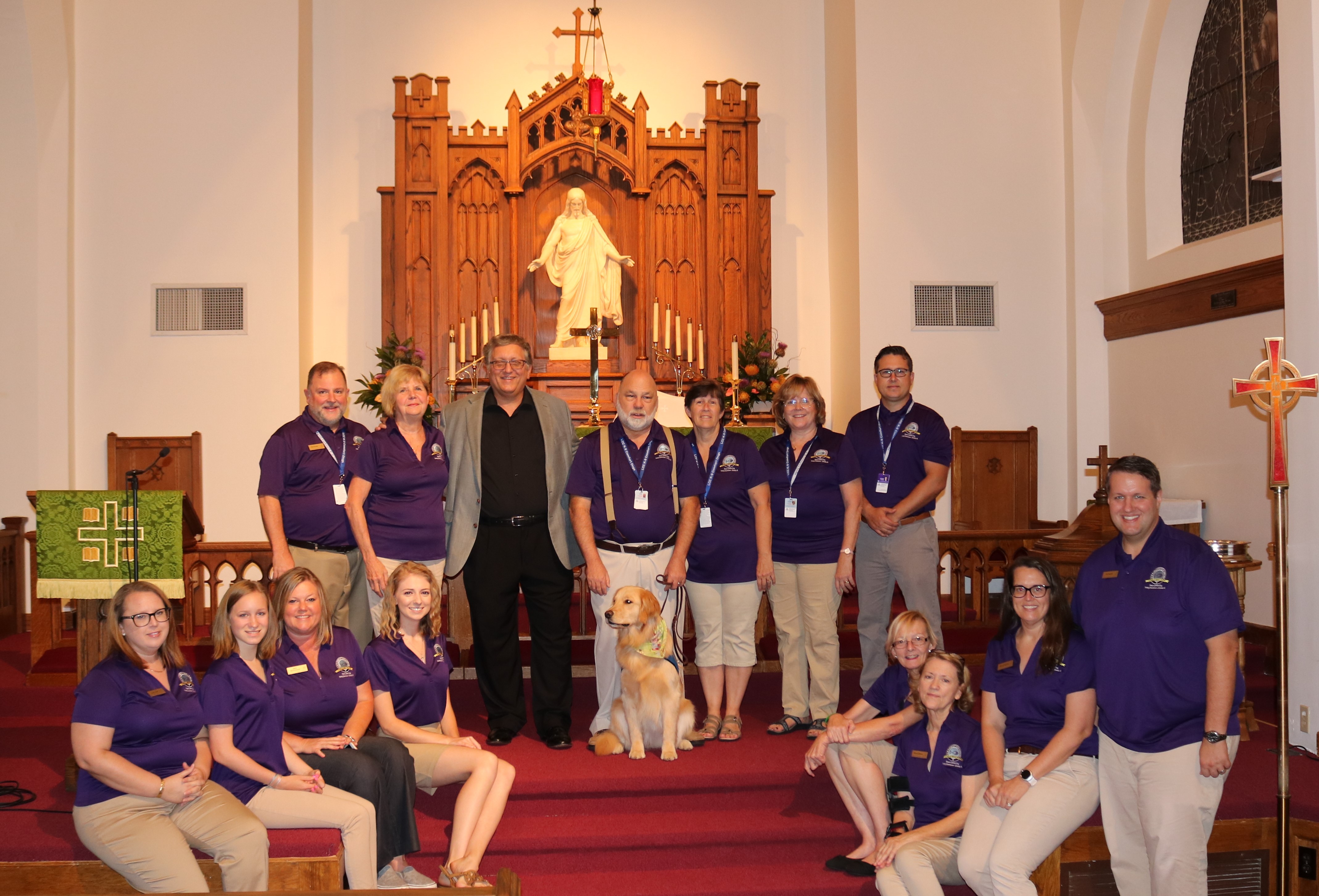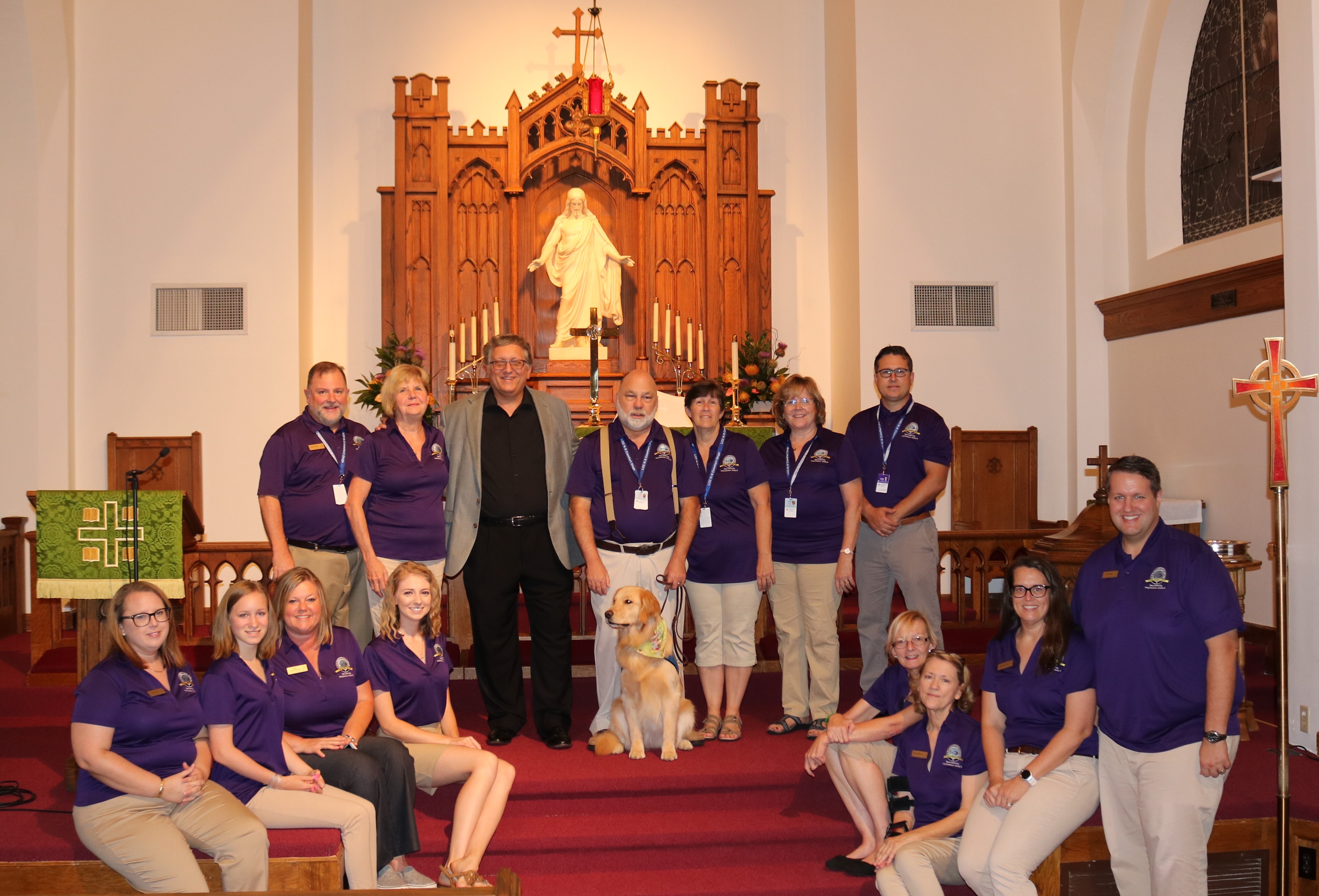 Learn More
Learn more about what a Comfort Dog does through this entertaining video summarizing the ministry. "Wags-n-Tales" was produced and directed by Ken Fay of Christ The King Lutheran Church in Newtown, CT and won an Emmy in 2014.
Many Thanks to our Supporting Partners!
Groomer:
All Creatures Pet Grooming
Priscilla Brunjes, Owner
2411 E. South St
Orlando FL 32803
407-228-2855
www.allcreaturespetgrooming.com
Veterinarian:
Corrine Drive Animal Hospital
Dr. Nicole Hancock, DVM
2905 Corinne Dr.
Orlando FL 32803
407-895-3774
Corrinevet@yahoo.com
Monthly Food Donation:
Fromm Family Pet Food
Ellen Bannin, Sales Manager
262-292-5655
Ellen@frommfamily.com
Monthly Food Donation:
Bark Avenue Bakery 
Chris Theopilus, Owner
4307 Vineland Rd. Suite H4
Orlando FL. 32811
407-345-9999
www.BarkAvenueBakery.com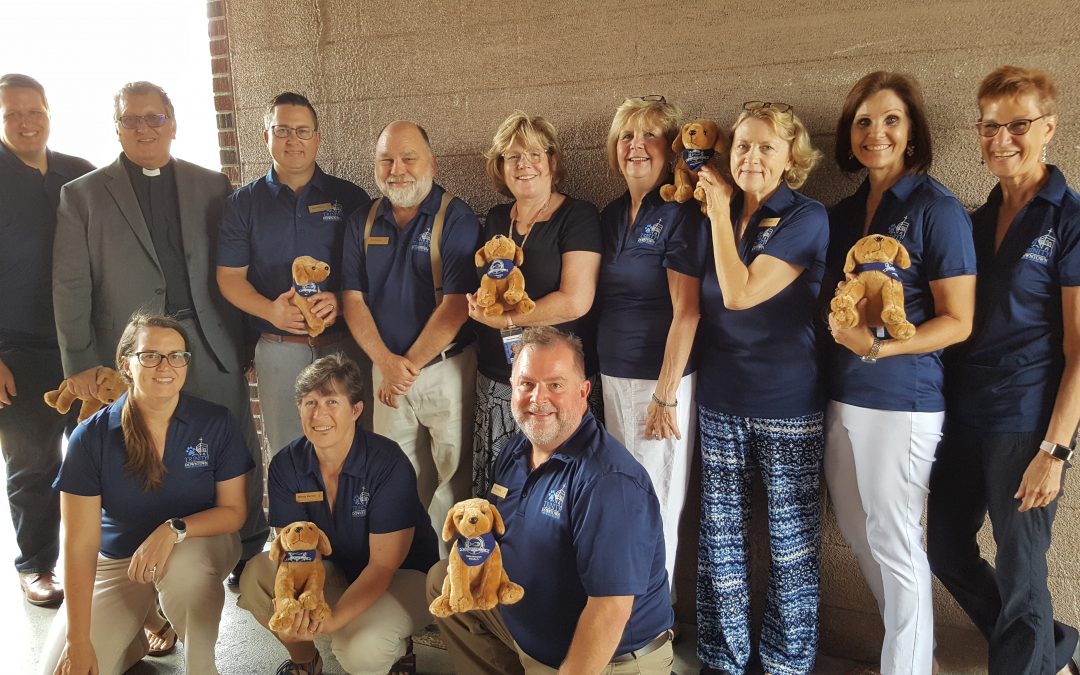 Trinity is eagerly anticipating the arrival of its first LCC Comfort Dog! In preparation for the puppy's arrival, the Comfort Dog Ministry Team organized a Puppy Shower so that everyone had an opportunity to participate in providing something on the...
read more
Photo Gallery
Recent Comfort Dog Visits to Orlando