Welcome to
Trinity Downtown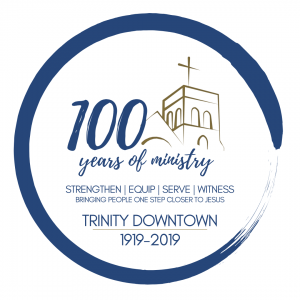 Thanksgiving Plans
November 24 10am Combined Worship Service, Congregation Thanksgiving Meal, and Volunteer Recognition
November 27 Thanksgiving Eve Worship @ 7pm 
November 28 Thanksgiving Day Worship @ 10am
Trinity Shares Christmas - Angel Tree
 This is our 14th year of sharing Christmas! The tree and ornaments are up ornaments requesting food, gifts and donations. The recipients of your love will once again be Angel Tree children (and their caretakers), whose parents are incarcerated. Each child will receive two gifts in the name of their parent, and the caretakers will receive food for a Christmas meal. If you would like to participate:
Take one or more ornaments from the tree.
Write your name and each ornament code or donation amount on the pad provided on the shelf.
Return the requested donations and unwrapped gifts with the ornaments no later than Sunday, November 24. Please do not use the adhesive side of the ornament.
Our Angel Tree list has 13 families and 28 children – more than last year!  We haven't reached all the caretakers yet, so if you miss the tree this weekend, don't worry – there will be more ornaments next weekend! If you have any questions about Trinity Shares Christmas/Angel Tree, please contact Glenda at whitemice@bellsouth.net.
Christmas Community Outreach Friday, Dec 6
Trinity's Lake Eola Christmas Outreach Event
Friday evening, December 6 at the Orlando Tree Lighting, Trinity's CDC children will be singing on the stage and with YOUR support, Trinity will host three tents for free ornament making, a free dress-up nativity photo booth, and a free hospitality/cocoa tent, all sharing a message that CHRISTMAS IS STILL ALL ABOUT JESUS. 
Please let us know RIGHT AWAY if you'd like to participate at TLC@TrinityDowntown.com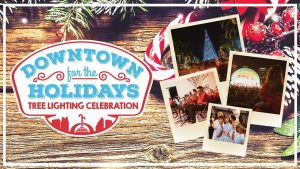 Women's Christmas Dinner
SOLD OUT!
Thursday, December 12  6:00 – 8:00 pm
This year's theme is "Shine Like Stars at Peggy's Party" in honor and remembrance of beloved Trinity member, Peggy Trapp. Let's come together for fellowship, Christmas caroling, a wonderful catered meal prepared by Green Coat Catering and served by men of the congregation, and a great reminder that "It's still all about Jesus!!!" 
Let's dress up a bit, but don't go to the trouble of buying something new! Sunday best is great, or business attire.
We are also collecting supplies to donate to The Morgan Center and Quest (Name brands please):
• Items for Quest: Clorox Wipes, Kleenex , Airborne Tablets, Vitamin C Gummies
• Items for The Morgan Center: Clorox Wipes, Kleenex, Hand Sanitizer, Children Bandaids (Designs)
If you have any questions, contact Darlene Sabin: darlene.rehbein.sabin@gmail.com

Dec 14 rotary christmas parade - church & cdc
 All are welcome to walk with Trinity for the Rotary Christmas Parade.  Wear you red "It's Still All About Jesus" shirt, or a Trinity shirt of some kind.  We have extra red shirts from last year, so please contact us if you're interested in purchasing one!  407-488-1919 x101 or TLC@TrinityDowntown.com
Christmas Eve & Day Worship
Tuesday, December 24 3pm Children's Program
Tuesday, December 24 Candlelight Communion worship at 5pm, 7pm, 9pm, and 11pm
Wednesday, December 25  Christmas Day worship at 10am
Calendar dates
November 24 10am Combined Worship, Congregation Thanksgiving Meal, Volunteer Recognition
November 26 CDC Thanksgiving Meal
November 27 Thanksgiving Eve Worship
November 28 Thanksgiving Day Worship (offices & CDC closed)
November 29 (offices & CDC closed)
December 1 First Sunday of Advent
December 4, 11, 18 Wednesday Advent Devotions (Noon and 7pm)
December 6 Trinity Outreach Event at Lake Eola, Orlando Tree LIghting
December 12 Women's Christmas Dinner
December 14 The Trinity family walks in the Rotary Christmas Parade
December 21 SATURDAY 6pm, Service of the Longest Night
December 24 Christmas Eve Worship
3pm Children's Program, 5pm, 7pm, 9pm, and 11pm Candlelight Communion
December 25 10am Christmas Day Worship
December 28/29 Food and Funds on the Fifth Collection
December 31 New Years Eve Worship 7pm
January 5 Epiphany Cantata (8am and 11am)
How we got started
When Orlando was still a small town, a group Midwestern people of German heritage gathered together with Pastor George Trapp to form Trinity Evangelical Lutheran Church in 1919.  By 1921 they had built a small sanctuary on Hughey Street, where the Orlando Police Department is now headquartered, but that building was outgrown and sold in a very short time.  After years of renting space for worship, and outgrowing each one, Trinity's current sanctuary was built in late 1926, and the congregation began worshiping here in 1927.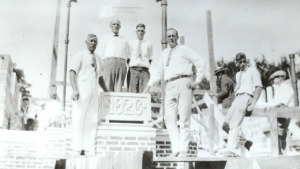 Where we are now
We've just celebrated Trinity's 100th anniversary!  With 100 years of history in behind us, Trinity is excited to begin a second century of  strengthening and equipping the people of Trinity to reach out to those around us.  The worshiping congregation averages about 250 people per weekend, and we are privileged to be able to care for and educate nearly 300 children from six weeks old through PreK-4 in our Trinity Lutheran School Child Development Center.  Knowing how demanding and complicated life can be in this day and age, we're working hard on getting "back to the basics" as we focus on the five key components of a Christian life: word, worship, witness, stewardship and fellowship. Through that clear focus comes direction to our ministry efforts – our purpose, in all that we do, is to bring people one step closer to Jesus; to be disciples of Jesus, to make disciples, and then to be sent out into our communities and the world to touch the lives of others with the love of Christ.
Who we are
We're just a group of imperfect people who use our gifts and abilities – at church and at home – to carry on the Gospel ministry of Jesus Christ.  We're not just a "Sunday morning church," we're  dedicated to ministry seven days a week, in many different ways, on and off our campus. With 100 years of history behind us, Trinity is excited to begin a second century of sharing Jesus with those around us… bringing people "one step closer to Jesus."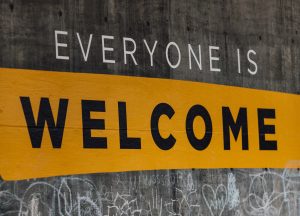 What we believe
That God is Triune, that is, Father, Son, and Holy Spirit, one God, existing eternally in three Persons.
That God created the heavens and the earth, everything, seen and unseen.
That at the right time, about 2,000 years ago, the Son took on human flesh, lived a perfect life, and died innocently in order to rescue us from the power of sin and eternal death.
That the Holy Spirit of God is still active to bring lost sinners to faith in Jesus Christ and eternal salvation.
That God has carefully preserved for us to this day a reliable record of his dealings with humans in the Bible.  This Word of God points to Jesus, not just telling a story, but drawing us into a relationship with the God who loves and saves us.
What's a Lutheran? 
On Oct. 31, 1517, Martin Luther nailed the 95 Theses to the door of the church in Wittenberg. This is a significant day in Church history, which we often think of as the beginning of the Reformation. Those bearing the name Lutheran and some Protestant congregations commemorated this day at the end of October. So, what was the Reformation, and why is it so significant?
Ultimately, the Reformation came down to a single issue: how sinners were to be forgiven and obtain eternal life. On the one hand, Rome claimed that sinners needed to earn forgiveness of sins by their doing: praying certain prayers, paying for church services, buying indulgences, making pilgrimages and more.
The Reformation wasn't about making a new church. It wasn't about how statues, crucifixes, liturgy, vestments and sacraments were "too Catholic." It wasn't about personal preferences. The Reformation was about how God sent His Son, Jesus Christ, into the flesh in order to be the Lamb of God who takes away the sin of the world in order to bring us eternal life. That's what the Reformation really is about. That's what being Lutheran is really all about.
And that's why Lutherans do what we do. We baptize babies because they need the work of Jesus that gives them the forgiveness of sins. We confess our sins at the beginning of the Divine Service because we need the forgiveness given in the absolution. We cry out to God for mercy, because we know that we deserve to be punished instead. We hear the Law condemn us, because our flesh needs to be put to death. We hear the Gospel, because we need the comfort and forgiveness it brings us. We receive Christ's body and blood, because apart from Christ, we have no life in our flesh. But don't be fooled: These things are not about what we are doing; they are about God doing something for you, namely bringing you the gifts of forgiveness, life and salvation.
We're not disgruntled, but we are sinners who need the forgiveness Christ brings. We are Lutherans.
by Rev. Jordan McKinley
Our Mission
Our mission is to proclaim the Gospel of Jesus Christ through ministries which strengthen and equip people for Christian witness and service in downtown, metropolitan Orlando, and the world.
Our Purpose
Our purpose, in all that we do, is to bring people one step closer to Jesus.
National Lutheran Schools Week 2020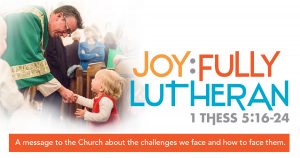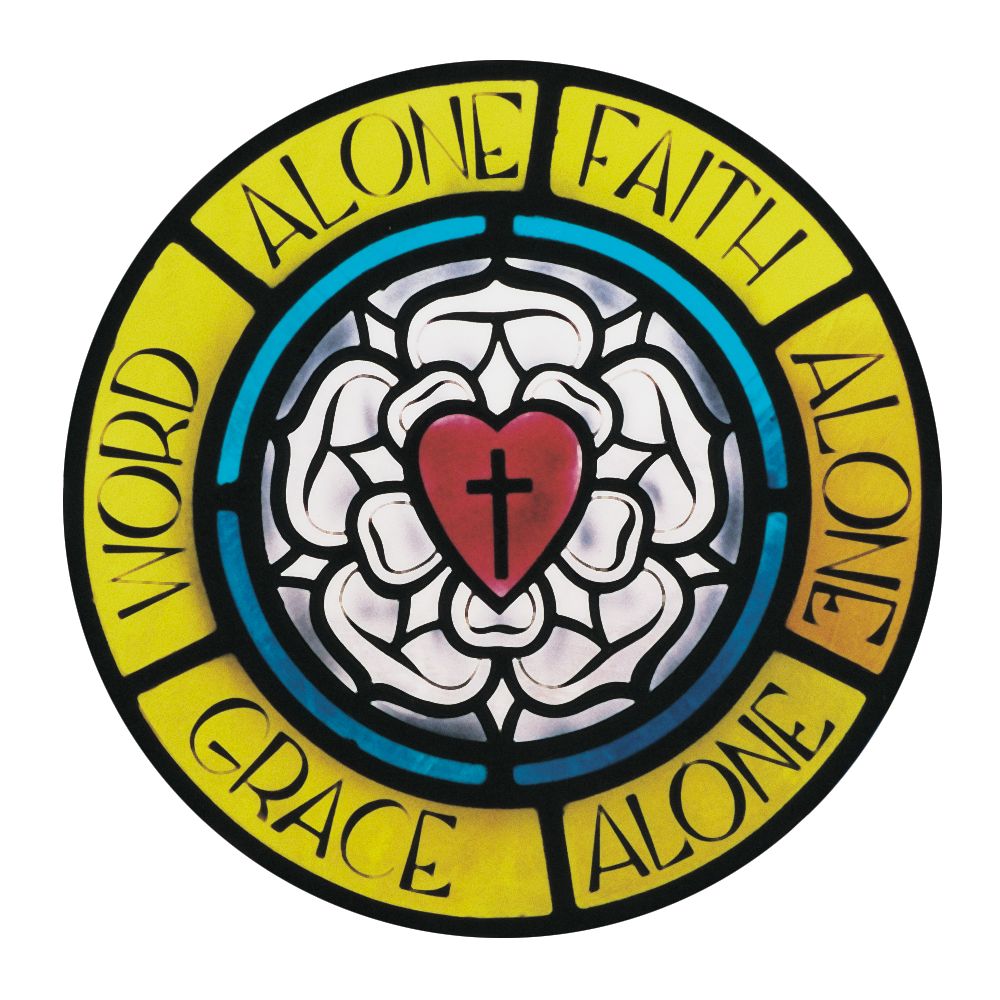 Plan Your First Visit
Are you wondering… 
Where can I park?
Where is the service?
What should I expect?
Is there a nursery for my toddler?
What kind of music do they play?
 Find out answers to these questions and more as you plan your first visit.
UNDER CONSTRUCTION - COMING SOON
We've been around for 100 years…
and we're looking forward to writing the next chapter with YOU in it.
Trinity Evangelical Lutheran Church, a member of the Lutheran Church Missouri Synod