Update: August 11, 2017
Good Day and Blessings to Everyone!
This past Thursday evening we had a great turnout for Pastor Kallesen's town hall visit. Those that were there had a wonderful opportunity to learn about Pastor Kallesen and what motivates him in his ministry doing the Lord's work. He told us about his past churches and his time at the District office. Pastor Kallesen's lovely wife Desiree told us how they met and about their family. It was obvious throughout the town hall that she is his rock in their 40 years marriage and has been very involved in every move that the Lord has taken them. The links for each town hall meeting are available below. Please take the time to listen to both of the town halls if you were not able to attend.
Where do we go from here? The Call Committee will be meeting next week to prayerfully consider the recommendation that we will bring forward to the congregation on August 20th for the Call Service. The time is not finalized yet, we believe that it will be right after the 11am service. Please stay tuned to the announcements, weekly and the phone tree for the final details.
If you have any questions or feedback about the pastors, please feel free to email me norris.timothy@gmail.com.
God is good and has provided us two wonderful Pastors for Trinity to pray over and listen for His will.
Please keep both Pastor Braun and Pastor Kallesen and their families in your prayers. Please keep Trinity and the Call Committee in your prayers as we ask for God's wisdom and guidance to discern which pastor to call.
In His Name, Tim Norris, Call Committee Chair
Update: August 5, 2017
Pastoral Call Process
Greetings Trinity Downtown! This past week was an exciting one for us! We had the privilege of hosting two wonderful pastors and their wives, which provided everyone an opportunity to learn about each other.
Pastor Wayne and Linda Braun flew in from Nebraska for a quick trip at the beginning of the week. They had the opportunity to meet our Ministry, Operations and School staff and learn about everything we have going on campus. Tuesday night we had a great turnout for the Town Hall and some excellent questions that allowed us to get a deeper understanding of who Pastor Braun is. The Town Hall was recorded and the audio of that session which is available here. They flew out Wednesday morning at 6am to continue their trek around the country.
Pastor Doug and Desiree Kallesen visited Trinity on Thursday for a full day meeting with our staff and to get a formal tour of our campus. Pastor Kallesen spent some one on one time with our leaders to learn about Trinity and all that we do. We will be having a Town Hall Meeting with Pastor Kallesen this coming Thursday, August 10th at 6pm. Come out and bring your questions! This is another great opportunity to learn about who Pastor Kallesen is and what God-given talents he and wife would bring to Trinity Downtown.
God has provided us a great list of pastors! Pastor Braun and Pastor Kallesen are both amazing men and we will be blessed to have either one as out Sr. Pastor if that is God's will. Keep praying for the Call Process, the Pastors on our list and for Trinity.
Blessing to each and everyone of you, Tim Norris, Call Committee Chair
Update: July 26, 2017
An additional candidate has been added to the list of Call Candidates and has completed the first interview.
Rev. Douglas Kallesen
Age – 60. Married with 3 adult children. Wife is a piano teacher, organist and has DCE background.
Currently, lives in here in Orlando has been working with FL-GA District since 2001. Pastor Kallesen has been serving as the Mission Executive for the district and has help plant 75 churches. He travels through the District and helps churches with outreach planning. Prior to that, he was the Senior Pastor at Faith Lutheran in Franklin, TN.
Update: July 12, 2017
Greetings Trinity! Currently, the call committee has completed interviews with three of the five Pastoral Candidates. We have two more to complete, which should happen this month. God has provided us a great list of potential Pastors and the committee is spending a great deal of time doing our best to bring forward a wonderful recommendation to the congregation. The committee asks that you continue to keep Trinity in your prayers as we try to discern God's will for us. More information and a recommendation coming soon, so stay tuned!
God's Blessing,
Tim Norris, Call Committee Chair
Call Candidate Bios
Rev. Dr. Wayne Braun
Age 58. Married with 4 adult children. Wife is a Lutheran school teacher and has directed a pre-school.
Currently, lives in Germany pastoring a church there and working with the Board of Internation Missions. He has been there the past four years. Prior to moving to Germany, he was a pastor at 4 other churches here in the US.
Average attendance is 100+ a Sunday.
Rev. Andrew Ratcliffe
Age 37. Married with one two-year-old little girl. Wife has a degree in Music Education and is an organist.
Currently, Pastor Ratcliffe is the associate pastor at St. John Lutheran in Seward, NE for the past 6 years. Very active in the youth and family ministry at St. John. He has been the sole pastor at his first church, St. Paul in Sac City, IA
Average attendance is 1000+ a Sunday
Rev. Mark Dahn
Age 42. Married with 3 children. Youngest is starting middle school and oldest in starting high school.
Currently, Pastor Dahn is the Associate Pastor at Trinity Lutheran Chuch in Tyler, TX. He is specifically the Family Ministry and Outreach pastor. He has been at Trinity for 8 eight years. Pastor Dahn was also an Associate Pastor at his first church, St. John Lutheran in Battle Creek, NE.
Average attendance is 300+ a Sunday
Rev. Jason Taylor
Age 48. Married with 4 children ranging from elementary to high school. Wife is a Lutheran School Teacher and a DCE.
Currently, Pastor Taylor is the sole pastor at Zion Lutheran Church in New Palestine, IN. He has been the pastor there for the past 8 years. Prior to Zion Lutheran, Pastor Taylor was the Associate Pastor at Holy Savior in Lincoln, NE.
Average Attendance is 350 on a Sunday.
Rev. Douglas Croucher
Age 54. Married with 3 adult children.
Pastor Croucher is the Sr. Pastor at Concordia Lutheran in Fort Wayne, IN. He has been at Concordia since 2004, where he has served as both Sr. and Associate Pastor. Pastor Croucher started out as a Lutheran School Teacher and DCE before going on to become a Pastor. He has worked at several other churches as a teacher or DCE.
Average Attendance is 900+ on a Sunday.
Update: April 19, 2017
A new call candidate list has been compiled from names submitted by the congregation along with names from the District office. Our Circuit Visitor, Pastor Ken Green, is now calling all those on the list to confirm their eligibility and will then compile a final list for us. We ask for your continued prayers as we wait for the final list to be prepared. Once the final list is received, the Call Committee will start the interview process. Please continue to pray for this call process: that the Holy Spirit is working on the hearts of the pastors on the list and that the Call Committee is able to discern God's will for Trinity.
Update: February 6, 2017
Trinity Family, In recognition of God's call to stay in New York and pursue ministries and initiatives there, Pastor Mark Mueller has decided to decline our call to serve as Trinity's Senior Pastor.
As a church & school family unified in our mission, together we will continue to look forward, stay positive and faithfully execute the mission and purpose of Trinity Downtown while continually looking to God for guidance and seeking His will for Trinity.
We will continue to work with FL-GA District President Rev. Greg Walton, both on a new call list and a new Interim Senior Pastor to step in at the close of Pastor Zehnder's time with us after Easter. Please continue to pray for God to send the right person to serve with us as our Senior Pastor.
Thank you, Stephanie Landis, V.P. Leadership Council & Call Committee Chair
From Rev. Mark Mueller:
February 2, 2017
Dear Members of Trinity Lutheran Church,
I was with great humility and honor that I received your call to be the Senior Pastor of Trinity. Trinity has a long tradition of being the presence and witness of Christ in downtown Orlando. As your work there continues while approaching the 100th anniversary of your founding, God has an exciting and fulfilling future in store for you. The opportunities there are limitless; and, more importantly, so is the power of the Gospel of Jesus.
This call also compelled me to consider God's working at Bethlehem and my call to serve Him here in New York. It has been a hard and yet rewarding experience to evaluate how the Lord is using me now and where He is asking me to go in the future. I have never thought more deeply about myself and my ministry than I have over the last two weeks. Bonnie and I have prayed, cried, and thought deeply about God's will for us. Though it all, we have come out feeling blessed through our deliberations.
In the end, I have decided to decline your call to serve you as your pastor. While I do recognize the ministry in Orlando as something for which my skills are a match, I recognize God's call to stay here in New York at this time. There are multiple ministries and initiatives here that, after many years of work, are just gaining some momentum. (even within the last couple of weeks) I feel a strong calling to see these through to completion. God has increased my joy and strengthened me for His service here. He has brought me to a place of peace about myself, my ministry, and the ministry of Bethlehem.
My thanks to Pastor Zehnder, the call committee, staff, and leadership council of Trinity who were all very supportive, open, and gracious to us during these last weeks. The strong leadership of Trinity is a true blessing and will see you through these challenging times.
Please know that my heart yearns with you as you seek a pastor to lead you. There is a part of me that wishes I could be in both places, but as I like to joke, I failed omnipresence at seminary. I am confident that God has a pastor in mind who will lead you, guide you, and serve with you as He leads Trinity into its second century of ministry in Orlando. I promise my prayers and the prayers of the people of Bethlehem will be fervently raised to God, asking the Lord to send you the pastor he already knows will lead you.
"I know the plans I have for you, declares the LORD, plans for welfare and not for evil, to give you a future and a hope." Jeremiah 29:11
Blessings in Jesus,
Rev. Mark Mueller, Senior Pastor, Bethlehem Lutheran Church, Delmar, NY
Update: January 13, 2017
Pastor Mueller sent a letter of response to the congregation after receiving the call (below). Pastor Mark and his wife Bonnie will be visiting January 20-22, Friday through Sunday. Please keep them both in your prayers as they consider this Divine Call.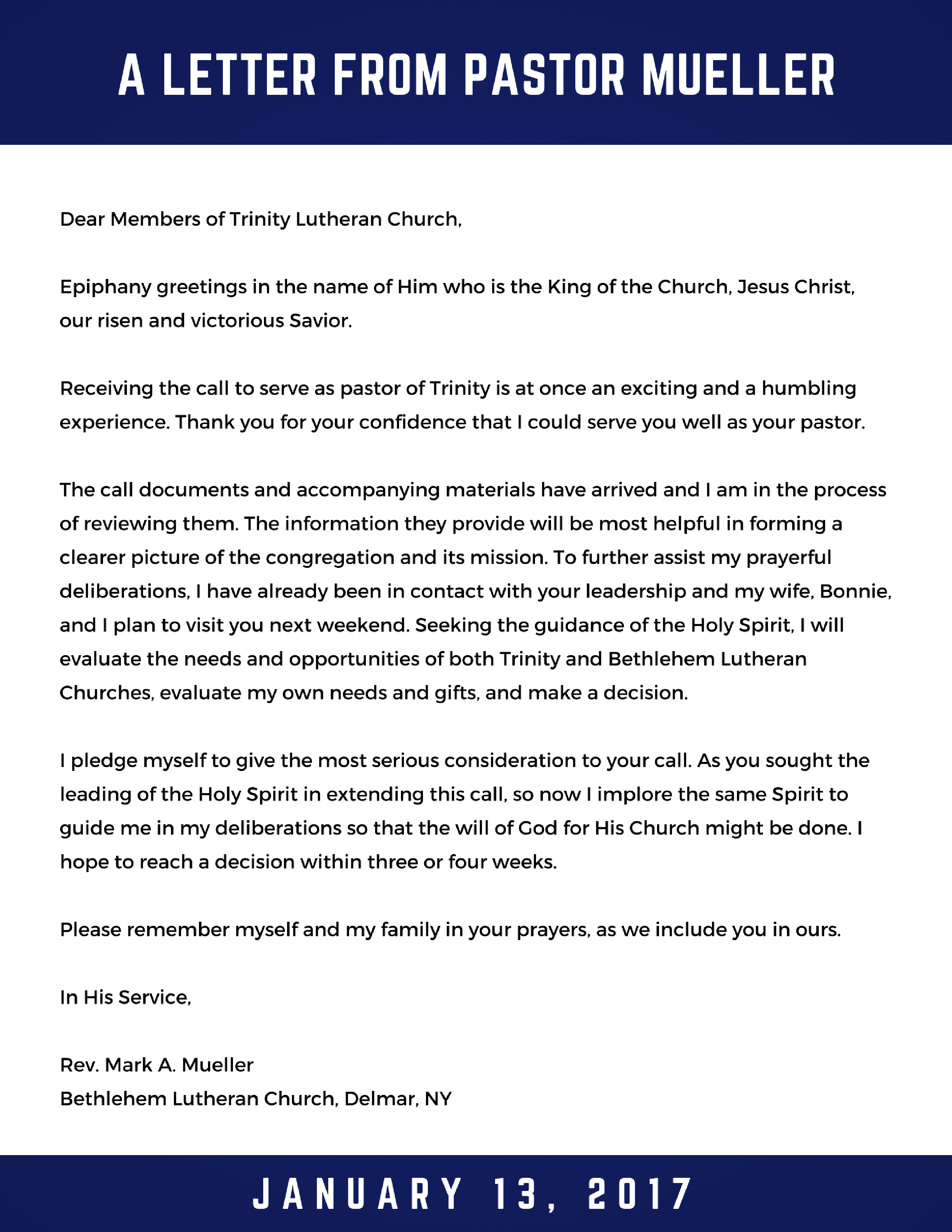 Update: January 8, 2017
At a Special Voters Meeting, Trinity voted to extend a call to Rev. Mark Mueller of Bethlehem Lutheran Church in Delmar, NY.
Update: October 31, 2016
Your Call Committee has been diligently moving forward with securing a new senior pastor for Trinity. The following is the official Call List after both President Walton and our Circuit Visitor, Rev. Ken Green fully vetted the District and congregational nominees:
Mark Mueller: Bethlehem Lutheran Church – Delmar, NY
A. Mark Schudde: Concordia – Conover, NC
Kurt Wenzelburger: Divine Redeemer – Hartland, WI
Douglas Kallesen: FL-GA District Executive Director of Outreach – Orlando, FL
Jeffrey Meyer: Christ Memorial – Fitchburg, WI
Carl Rockrohr: Candidate (no current affiliation) – Fort Wayne, IN
Mark Frith: Lutheran Hour Ministries – St. Louis, MO
The Call Committee has had the opportunity to research, study, and discuss all of these great candidates and we have once again moved to interview stage. During the first week of November, we are conducting video interviews with the candidates we wanted to get to know better. Stay tuned for our next steps and as always, don't hesitate to speak to anyone on the call committee if you have questions: Stephanie Landis, Ted Lange, Mike Kunze, Jenn Blackwood, Mike Hofmann, Bonnie Roby, Rocky Smothers, and Bruce Hahn.
Update: October 14, 2016
On Wednesday night, October 12, the Senior Pastor Call committee was able to meet and start preparing for our next Call. We had an opportunity to map out our process of new meetings, interviews, and visits. The call committee also had a chance to speak with Pastor Ken Green, our Circuit Visitor, and receive his insights, support, and advice on our upcoming journey. Stay tuned for the publishing of the entire new call list and updates on our progress and next steps. As always, feel free to contact Stephanie Landis, Call Committee Chairperson, with any questions you may have at stephanie.landis@psiusa.com.
Update: September 23, 2016
We at Trinity have been blessed with a variety of vacancy pastors over the past few months which has provided new perspective on the variety of pastoral preaching and teaching. New perspectives and teaching techniques can provide to any congregation a boost in spirit as we work through God's plan for both Trinity and the leader he is preparing to continue on the Mission and Ministries of Trinity. We may be impatient while we wait but please know full well that God is in charge and he does have a plan for Trinity.
Following the call decline by Pastor Jacob May, our District President, Rev. Greg Walton, immediately began to create a new call list for Trinity. For a variety of reasons, all of the individuals on our original call list are no longer being considered. As part of this new call process, we have again opened Sr. Pastor nominations to Trinity members through September 30th. Official nomination forms are available in the narthex or from the church office-please complete and return to a call committee member or to the church office. Feel free to direct any questions you may have to the members of the call committee. Stephanie Landis, Ted Lange, Mike Kunze, Jenn Blackwood, Mike Hofmann, Bonnie Roby, Rocky Smothers, and Bruce Hahn.
To provide for Trinity's spiritual leadership and pastoral care needs during this call process, Trinity's Leadership has asked Reverend Tom Zehnder to return to Trinity to serve Trinity as a short term vacancy pastor. Pastor & Mrs. Zehnder will be returning to Central Florida in late October. Pastor Zehnder has agreed to serve beginning in November and through Easter weekend which falls on April 16th in the coming year. We are still working on details of Pastor Zehnder's responsibilities at Trinity but we look to him first and foremost to serve the spiritual well-being of Trinity by planning and leading worship, attending to the spiritual needs of staff and congregation, officiating at weddings and funerals as needed, baptisms, and care for hospitalized and shut-ins. Pastor Zehnder will work to continue efforts to build strong relationships between church and school as well as to build and encourage strong relationships with the community and our District and Synod leadership. It is reassuring to know that Pastor Zehnder is familiar with Trinity and that he has a strong passion and love for Trinity. Also know and understand that the mission and ministries of Trinity are ours and that regardless of what pastor is present on any given weekend, we, the congregation, have the responsibility and desire to continue to "Grow Together" while "Bringing People One Step Closer to Jesus".
Know that the Senior Pastor Call Committee is fully committed to move forward to identify God's plan for Trinity and will continue to keep you updated with news of progress in the Senior Pastor Call Process. As always, if you have questions, please don't hesitate to contact any one of the Call Committee members listed above. Above all else, keep this process in your prayers, along with the committee members, members of leadership and your ministry staff. Thank you.
Update: August 19, 2016
It is with a heavy heart that I convey the news of my conversation with Pastor Jacob May this afternoon. After untold amounts of deliberation and prayer, Pastor May believes that God still has work for him to complete at Emmanuel Lutheran in Virginia. He will not be accepting our Call to come to Trinity. During this call process, Trinity Leadership has had discussions regarding our anticipated plans if we were not successful with this initial call. We will be working with District President Walton to secure a new Interim Senior Pastor and the Call Committee will reconvene to re-connect with a couple of individuals on our current call list. So please stay tuned, as I expect to have more details in the coming weeks. Please continue to pray for God to send the right person to lead Trinity into the future. Stephanie Landis, V.P. and Call Committee Chair
Update: June 29, 2016
During the week of June 20, Trinity had the pleasure of hosting a visit from one of our Senior Pastor Candidates, Rev. Jacob May. We planned a very packed itinerary for him, to afford him the broadest view of Trinity and what makes us tick. In addition to a tour of the campus, he had the opportunity to take part in special meetings with the ministry staff, administrative staff, the school board, leadership council, a large representation of the elders, task force/campus development, Pastor Martin, and the call committee. We held three town hall meetings, where nearly 100 members of the congregation had a chance to meet Pastor May and ask him any questions that came to mind. Some of the topics included:
Bringing the church and school together
Engaging the Orlando community
His role and relationship with elders, the pre-school, conducting of bible studies, committees, finances, voter's meetings, etc. at his current parish
Ministering to the homeless
The Pulse tragedy in Orlando
Leadership skills and people skills
Style of service and ability to mesh with our current structure
How to build youth programs
Need for additional ministry staff at Trinity
Pastor May's answers touched on communication, transparency, "branding" Trinity within the community, building trust, seeking out gifts in others, being the face of Trinity, and showing people you care. I was personally impressed with the thought he gave to each question, his heart-felt and intelligent answers, and in his confidence to simply respond that he didn't know the answer yet to a couple of the questions that were posed. But my thoughts are only a miniscule part of the whole picture. I asked all of the individuals who had met him during a special meeting to send me a synopsis of their thoughts. I have included some quotes below.
"I believe God has given him the abilities and experiences to serve effectively at Trinity, and, if Trinity extends him a call to be our next Senior Pastor, I believe he and his wife will truly seek God's will."
"He spoke a lot about the importance of relationships in leadership. I am a firm believer in developing trust through various relationships before you can ever begin to be a leader. I think he has what it takes to lead trinity into the future, I don't know that it won't kill him doing it … We need to think seriously about how we can support him by making sure he has the experienced help he needs to be successful."
"Trinity needs a careful and observant leader and I think Rev. May can be described as that kind of person."
"I had the pleasure of meeting w/Pastor May one on one for a while. He strikes me as a thoughtful, in the sense that he weighs what he hears, and compiles that input in a manner to ingest and cipher it to come to a conclusion of what has been ingested. I feel he is mature beyond his young years."
"I would have liked to spend more time with Pastor May, but was impressed by his responses at the meeting I attended. Pastor May though young in age has the maturity and knowledge that could lead Trinity now and as we bridge the future."
Several members who I have spoken to individually have expressed the desire to immediately extend Pastor May a call to Trinity. The call committee still has at least one meeting to conduct, but I am optimistic that Trinity will be prepared to issue a call in the month of July. Please stay tuned for the announcement of a special voter's meeting in order to extend that call. As always, please feel free to contact me with any questions or concerns you may have.
– Stephanie Landis at stephanie.landis@psiusa.com.
Update: June 16, 2016
Your Call Committee has set up three town-hall-style meetings during Pastor Jacob May's visit, in order to give the congregation several opportunities to meet Pastor May, learn a bit more about him, and ask questions in a casual atmosphere. Please join us at one of the following meetings that will take place in the Sanctuary.
Tuesday, June 21: 12:00 – 1:00 pm
Tuesday, June 21: 6:30 – 7:30 pm
Wednesday, June 22: 12:00 – 1:00 pm
When Trinity was completing our Self-Study at the beginning of this call process, there were several key attributes that the congregation identified as critical traits for our new Senior Pastor. The top four were:
Leadership
Spiritual
People skills/connection
Preaching/teaching
Keep these in mind when thinking about any questions or discussion points you may have for Pastor May during his visit. Participation from you in this very important process is encouraged and is crucial to selecting the best Senior Pastor for Trinity. Feel free to contact Stephanie Landis via email at stephanie.landis@psiusa.com or the church office with any questions you may have. We look forward to seeing you at a town hall meeting!
Short Bio for Rev. Jacob May
Pastor May currently resides in Yorktown, Virginia, and is married to Michelle May (nee Bornhop). Together they have three children: Simon age 7, Elizabeth age 4, and Gabriel turning 1 in October. Born in 1981 in St. Louis, MO, he attended seminary there at Concordia. Pastor May is the sole pastor for Emmanuel Lutheran Church in Hampton, Virginia, where he has served since his ordination in 2008. The congregation currently has approximately 140 baptized members and enjoys an average worship attendance of 105. Emmanuel has a pre-school and daycare center with an enrollment of about 90. Pastor May was pivotal in re-establishing Emmanuel's school program and building it up to its current number of children and staff. You can learn more about Pastor May, read church blogs, and listen/watch several of his archived sermons at www.emmanuel-hampton.org.
Update: March 24, 2016
The Senior Pastor Call List for Trinity has been returned by President Walton for our consideration. Pastor Ken Green, our Circuit Visitor, then called each candidate to ask if they were able to "give consideration to a call at this time." As a result, we have a final Call List containing the following nine candidates:
Jeffrey Anderson – Bethel Lutheran Church, Morton, IL
Scott Bruick – St. John, Seward, NE
Karl Galik – LCEF Consultant, Gainesville, FL
Robert Goodwin – Grace, Menomonee Falls, WI
Dr. Dennison Goff – Messiah (Vacancy Pastor), Tampa, FL
Dr. Mark Larson – Candidate Status, St. Louis, MO
Jacob May – Emmanuel, Hampton, VA
Gary Schuschke – St. Luke, Oviedo, FL
Paul Sizemore – Mt. Olive, Irmo, SC
Your Call Committee is now holding detailed meetings to thoroughly digest the attributes and potential fit of each candidate. Through research, conversation, video-conference interviews, in-person visits, and much prayer, we hope to narrow down the pool and bring a recommendation to the congregation soon. Your committee members are:
Stephanie Landis, Ted Lange, Jim Martin, Mike Kunze, Mike Hoffman, Jenn Blackwood, Bonnie Roby, Bruce Hahn, Rocky Smothers
Any member of the congregation that wishes to provide input should feel free to contact any person on the call committee with feedback or input. Feel free to direct any questions you may have about the process to Stephanie Landis at stephanie.landis@psiusa.com. Thank you.
Update: February 3, 2016
The Senior Pastor Call Committee has compiled the results of the congregational survey that was conducted as part of the Senior Pastor Call Process. You may read/download it here. Or, you may request a hard copy from the church office by contacting us at 407-488-1919 x101 or TLC@TrinityDowntown.com. Thank you.
Update: January 14, 2016
Your Senior Pastor Call Committee has been working diligently to compile all of the information obtained from our survey and focus groups in order to complete the Trinity Self-Study. We have now submitted that to the FL/GA District, along with all of the Senior Pastor Nominations we received from the congregation.
The District President will now contact each nominee's District President. He will evaluate all of the nominated candidates submitted by the congregation and will add additional candidates that he feels would also be a potential fit for Trinity. He will then return a call list to Trinity for consideration. Please note that names of congregational nominees who, for a variety of reasons, are unable to consider a call at this time, or who would not be a good match for our needs will not be included.
We expect this process to take approximately 2-4 weeks. Pastor Martin and the call committee will keep you posted once the call list is returned and we move into the next phase of the process.