"Let no one despise you for your youth, but set the believers an example in speech, in conduct, in love, in faith, in purity." -1 Timothy 4:12 (ESV)

The High School Youth at Trinity Downtown have been hard at work over the last year. They've been hosting bake sales, ham sales, and making game day sub sandwiches. They've parked cars and even done a little bit of yard work.  All of this work was raising funds to help them attend the LCMS National Youth gathering in New Orleans.
This year's theme was "In Christ Alone," which helped jump start the nightly small-group Bible studies with questions focusing on identity, humility, and community.
The nightly topics were as appropriate as ever for this core group of youth as they come back to lead, serve, and continue to be Christian examples in the congregation, in their community, and shining examples to other youth as well.
"You are here for a purpose. You are here to learn several things. Number one: You are not weird or strange! You're just Missouri-Synod Lutherans!" –Rev. Dr. Matthew Harrison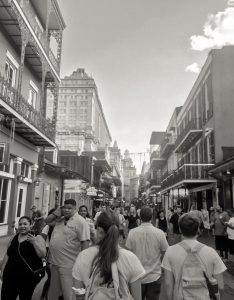 As much as many of the pictures may say otherwise, the trip wasn't all gumbo, jazz,  and Mardi Gras.  When 22,000 teenagers and 3,000 volunteers invade a city filled with excitement and hearts of service they tend to leave an impact.  The first and very obvious impact was the sheer number of people occupying a small space in downtown New Orleans.  Programs were held on one side of the city and mass events (where everyone gathers to listen, worship, and laugh) was held in the Mercedes-Benz Superdome about a mile-and-a-half across the city. Every morning and afternoon, as the attendees filed out of the 55 hotels and into the New Orleans heat. Roads were closed, traffic was halted, and a flood of Missouri-Synod Lutherans made a very visual impact on the New Orleans way of life.
We went to various breakout sessions where we were able to hang with other high school youth from different states. I met some high school students from Wyoming. The mass events focused on joy, community, and to be an ECHO for Christ. This means to act and serve others in a Christ like way. There were many service events, activities, and of course tours of the city. Some were able to give blood for victims in Baton Rouge, fill up backpacks for students in elementary schools, and serve people we met when exploring New Orleans.  -Spencer
"The National Youth Gathering was an experience different than anything else I've ever done! Being in one building and one city with 25,000 other teens who believe the same thing as me is so cool to see. The communion is something I won't ever forget.  How we all ate Christ's body and blood together was incredible! Words can't really explain the trip but it was something I'll never forget!" –Katie
25,000 people spent the week with their Bibles open in public, praying inside and outside cafes and bistros, fixing up neighborhoods and parks, and living out their faith in a very public way.  Trinity's High School Youth spent the week joined with their brothers and sisters in Christ by an identity not just as teenagers, not just as Missouri-Synod Lutherans, but as Christians "In Christ Alone."
"It was so awesome! I feel like I grew in my faith, and made some new friends that week.  It was really cool to see so many other youth like me all in one place."  -Darian
What's Next for YOUth?
Refreshed and refilled, equipped, empowered, and encouraged, the Youth are back and ready to serve their congregation further. They have learned skills and developed a mindset of servitude and an attitude of leadership.  They served as delegates for Trinity to all of Synod during the gathering and now they are ready to take on a larger role in their church.
So, next time you see one of our high schoolers in church, out on the town, or waiting around the Fellowship Hall, feel free to ask them about their trip to the 2016 LCMS National Youth Gathering.
Many thanks to our 2015-2016 Youth Ministry Team Members Laura Ramiz and Mike Miessler, for contributing generously of their time and talent to provide guidance, support and encouragement to Trinity's HS Youth this year!
If you would like to learn more about 2016-2017 plans for Trinity's Youth Ministry or are interested in volunteering with the Youth Ministry Team please feel free to contact Trinity's Youth Ministry Coordinator, Jenn Blackwood at Jenn.Blackwood@TrinityDowntown.com or the Youth Ministry Team Facilitator, Amy Fischer at AWTLM@aol.com.  We would love to put your spiritual gifts to work through Trinity Youth Ministry.
Thank You For Supporting Trinity's
Youth Ministry This Year!