Once again the Trinity family was blessed to welcome students into the family of God — during school chapel on Wednesday, May 25. The baptisms of these four students — Christopher, Kayla, Cleo, and Theryn  — confirmed what they already knew, that God loves them, that Jesus died on the cross for their sins, and that the Holy Spirit is guiding them every day.  Not only were the angels in heaven rejoicing, but also the teachers who have been part of their lives.  -Pastor Jim Martin
Seeing anyone baptized just brings a smile to my face, but when I see one of my students or one of my former students get baptized it not only brings a smile to my face, but a tear to my eye and makes my heart beat a little faster. Right now, being a part of Trinity's family we get to see these children grow in the Lord, and I know that even if I do not stay in contact with them here in this earthly life after they leave Trinity, I will one day be able to see them again in heaven.
On Wednesday I had the pleasure of witnessing the baptism of four Trinity Lutheran School children.  Two of them started in the CDC program many years ago.  What a privilege it is to watch these young hearts grow and love and accept our Lord.  I am blessed!
It was a beautifully emotional time for me to watch these four children being baptized because they know that God loves them and they are special to Him.  It was evident to me by the way they answered the Pastor's questions about God and baptism and by the smiles on their faces. I am happy to know that through their years here at Trinity, they have grown in their relationship with God and they have accepted God as their savior.  It is truly a blessing to know that I may have played a part in teaching them about God's love for them and in healping them in their journey to faith and baptism started here at an early age at Trinity.
Watching Chris and Cleo mature and grow academically this year has been truly fantastic.  Watching them grow in their faith and love for God has been a very moving experience.  I am grateful to have been part of it. It was humbling to see both of them take this step in their faith, and be baptized. I pray for them to go forward in God's grace that they will always be faithful in His ways and His word, and that they know that God will always guide them.
As a teacher, there is no greater joy than watching your students grow.  Watching Theryn grow in his faith this year and be baptized in front of the whole school warmed my heart.  I will never forget his excitement on his baptism day.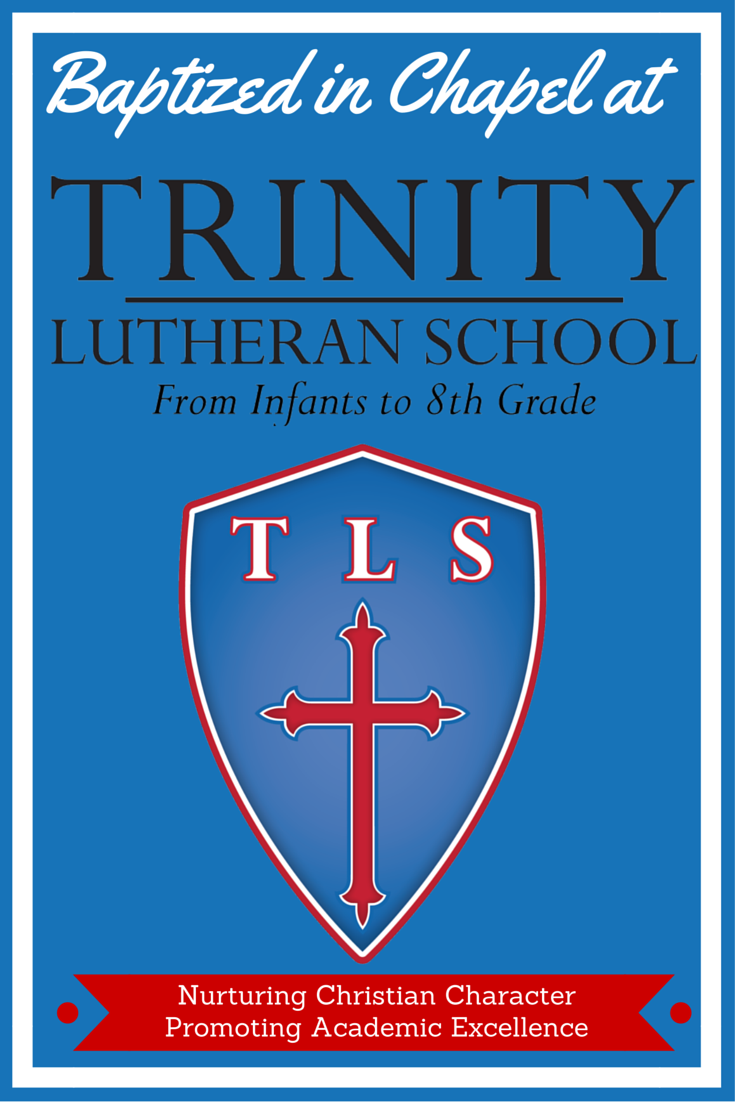 What kind of water is this that starts a fire?  It's the water flowing from the baptismal font of Trinity Lutheran Church in Downtown Orlando; Trinity Downtown.  Pastor Jim Martin implemented his idea for baptism remembrances for all Trinity members and visitors last January.  As the congregation came forward to the font, Pastor Martin dipped his finger in the water and made the sign of the cross on every person's forehead.  Each person received a special certificate reminding them to walk in newness of life.  The fire ignited.
On April 27, eight Trinity Lutheran School children were brought into the family of God through the Water and Word during the school chapel baptism remembrance service.  The Holy Spirit's fire is burning.
Just this past week on May 25, another school chapel service and four students who have felt the nudge and shove of The Spirit received forgiveness of sins through the washing of baptismal waters.  When Pastor Martin asked Cleo, Chris, Kayla and Theryn, "Do you want to be baptized?" the group response of "YES!" resounded through the pews of schoolmates, teachers, parents and friends.
Sunday, May 29, two more school families brought children to the waters and six more have requested dates before summer ends.   No doubt, the campus of Trinity Downtown is On Fire…..and it is water that is fueling the burn.
Family members and godparents arranged their work schedules to join the children and their classmates for the 8:30 am chapel service, and for a reception in their honor. The joy of these children was apparent to all in their smiles and their enthusiastic "YES!" to the question, "Do you want to be baptized as a follower of Jesus?" For the rest of their lives these children can be sure: "You were baptized into union with Christ and now you are clothed with the life of Christ himself." (Galatians 3:27) Praise God!