Trinity Downtown's partnership with the City or Orlando in the Downtown for the Holidays Tree Lighting event has been a fantastic opportunity for years and years! Trinity Lutheran Church & School has been able to share the "Reason for the Season" through musicals, caroling, choir performances, hosting a welcome table, passing out event programs, coordinating volunteers, and sharing information about Trinity and all its ministries. This year was no exception, with fantastic performances by TLS students, and a host of volunteers out to meet, greet and share information. In addition, this year Trinity Lutheran Church sponsored the spectacular performance by Encore! Cast Performing Arts which filled the stage with over a hundred singers and musicians. All of these elements combined make up the special gift from Trinity Downtown to our community during the holiday season, celebrating the birth of Christ as the true reason for the season. The entire event was amazing once again this year.
Trinity Students Bring a Special Message to the Stage
TLS Students spent a great deal of time and effort during music classes learning the songs, choreography and/or practicing their speaking parts in order to put on a great show that shares the good news of Jesus with our friends and neighbors in Downtown Orlando.
VPK Students Make Their Stage Debut
Mrs. Julia Malenke shares with us what a great joy it has been working with Trinity's 70+ VPK students preparing for their performance on stage. For most of these little ones, this will be their first of many TLS performances at Lake Eola — an annual tradition for TLS students. Mrs. Malenke describes some of her time rehearsing with the kids:
"Imagine yourself surrounded by a sea of adorable faces, bright eyes shining, joyfully singing Christmas songs accompanied by wiggly choreography, and you will have a glimpse of the fun I experience each week as the CDC Music teacher."
Preparation started weeks before the event, introducing the songs in Music class, then follow up by VPK teachers and staff reinforcing the lyrics and "wiggly choreography" throughout the week, not to mention lots of practice at home!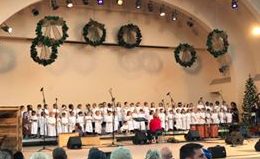 "What a joy to hear their sweet voices and experience the delight that they find in making music. One of my favorite sayings is 'Music is a fair and glorious gift of God' and nowhere is this more true than in the presence of our little ones praising God through music and movement." -Mrs. Malenke
K-8 Students Return to the Stage
Many of our K-8 students have been in the Downtown Holiday production for many years now in one way or another – whether in a musical, children's choir or as a guest at the storytelling when a Pastor would sit on stage and read the Christmas story from the Bible. This year, under the direction of Mr. TJ Howard, TLS K-8 students prepared for another fantastic performance (a capella carols this year)! The students worked hard, had lots of fun and pushed through their fair share of nervous butterflies.
Well Done!
It's a big deal standing up in front of hundreds of families and friends, let alone strangers, to tell the good news of the birth of Christ. Yet Trinity's students from four years old through 8th graders, under the direction of Mrs. Julia Malenke and Mr. TJ Howard, did just that. The kids sounded great, their performance was excellent, and the message was priceless!
Trinity's Outreach Ministry Team Joins the Holiday Village
While all the singing, dancing and tree lighting was going on, Trinity members represented Trinity Lutheran Church and ALL its ministries at a vendor booth in the Holiday Village. Armed with Trinity brochures & flyers, art projects for kids, Christmas service schedules and welcome cards, members of Trinity's Outreach Ministry Team hosted guests at their booth for a cup of hot cocoa, sold donated baked goods (thanks to our bakers!), and connected with our local neighbors.
Thanks to ALL who planned, prepared, and participated this year for Trinity's GIFT to our Orlando friends and neighbors at the Downtown for the Holidays Tree Lighting Event. We are blessed to be able to be a blessing to others, and to serve, in all that we do here at Trinity, to bring people one step closer to Jesus.