We are truly blessed and have so much for which to be thankful! We had a lot of projects and activities with themes of "thanksgiving" and "sharing our blessings" in the past week involving so many different people, from all areas of our Trinity family and local community, spanning multiple generations!!! There's something for everyone in this Trinity Family!
Last week one of our VPK classrooms, the Garden of Exploration, made their annual trip to Compassion Corner, a ministry partner which is located just West of our school campus which ministers to homeless and displaced people. The class worked together to prepare 42 Thanksgiving lunches consisting of turkey and cranberry sandwiches, homemade pumpkin muffins, homemade chocolate chip cookies, chips, and a granola bar! The children made "Jesus Loves You" cards, and decorated brown bags for the clients of compassion corner. We sang them some songs to bring them joy, and prayed our pumpkin prayer for them before giving them their lunches. It was an amazing experience of sharing God's goodness for the children and our classroom. Our memory verse for the month is, "Turn your back on evil and do good." Psalm 34:14a (ESV).
This past Saturday, a beautiful Thanksgiving Feast was prepared by Outreach Ministry Team members from Trinity for all the children who receive tutoring through Rebecca's Garden Of Hope. Volunteers from Trinity's Outreach Team participated to shop, cook and bake, provide decorations, pick up donations, set up and serve — and a lot of food, fellowship, and love was shared. Click here for the full story and how to get involved.
Trinity's congregation gathered for a Thanksgiving meal on Sunday – an event planned in order to bring together all those who regularly worship at four separate service times on the weekends – for some much-needed fellowship over a delicious meal. It was beautifully decorated, with tablecloths and centerpieces provided by the Women of the Word Bible study group as well as handmade placemats created by Trinity Lutheran School students. The meal was prepared by Chef Rich and a huge team of volunteers who volunteered their time to set up, prep, serve, clean up and even re-set for the next day's activities.
Not only were the decorations beautiful and creative, but they shared the word of God to our families through Bible verses and prayers shared in the artwork. Many parents and staff were seen walking along the rows of tables to read each and every one! The smiles and positive comments were endless!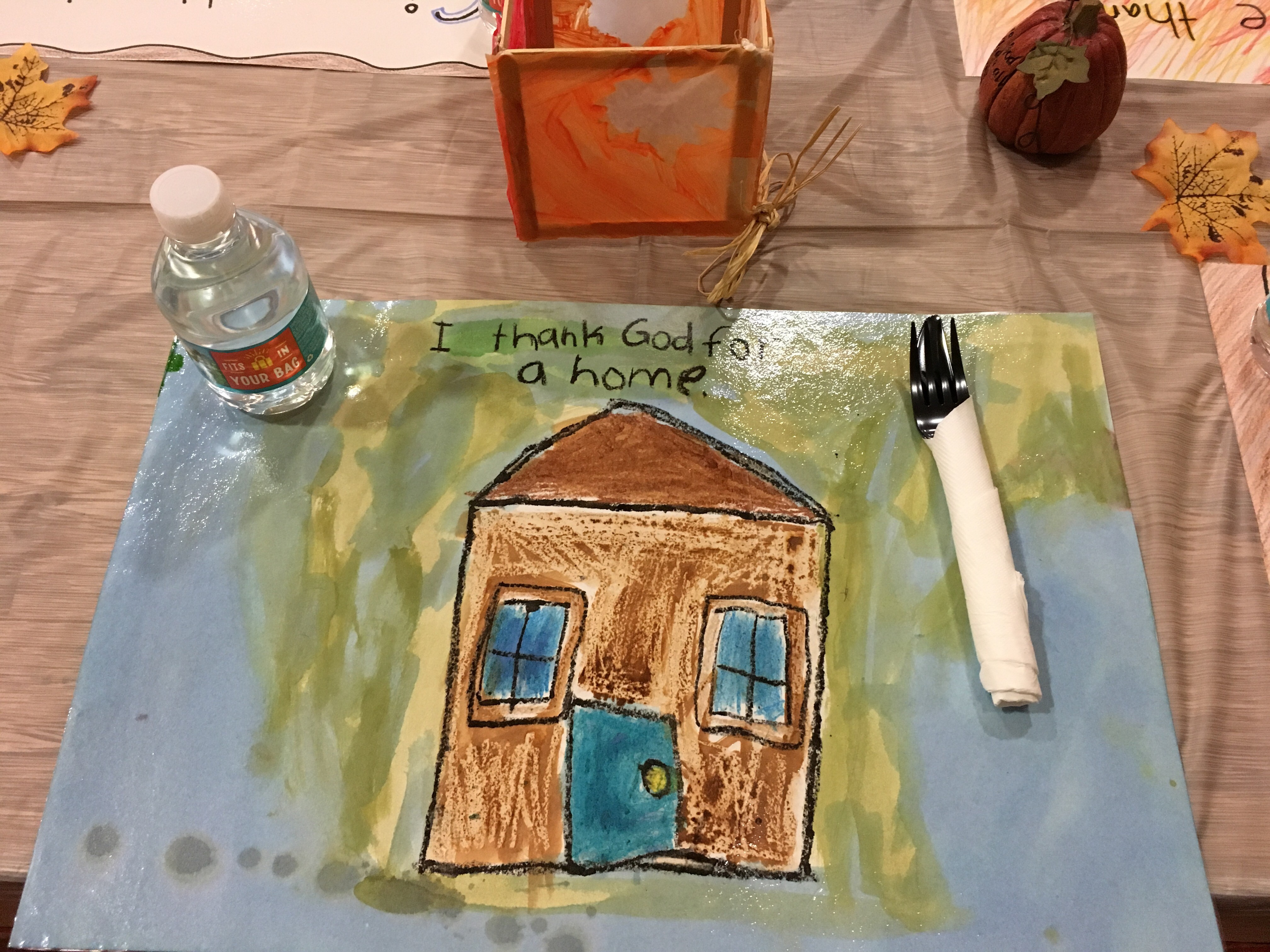 On Tuesday, Trinity Lutheran School celebrated with a special Thanksgiving Chapel Service, meal and dance recital. These events were attended by our students, staff, parents and grandparents. The focus was on being thankful as we remember our past, present and future under the grace of Almighty God. Dr. Brockberg outlined this message based on the three articles (paragraphs) of the Apostle's Creed that speak about God the Father, Son and Holy Spirit.
Our middle school students in grades 5-8 had some very special roles to play in Tuesdays events. They were well dressed in black pants and white shirts to make their special appearance in chapel reading scripture passages and singing as well for their roles as servers for the Thanksgiving Feast. The middle school choir performed the prelude to the special Thanksgiving chapel. The song, "My America," was a melodious blend of different voices and harmonies that really encapsulated the spirit of being thankful this holiday season. The medley featured classic American themes and ended with the verse, "Protect is by Thy might, Great God our King", which reminded everyone to thank God for everything we have.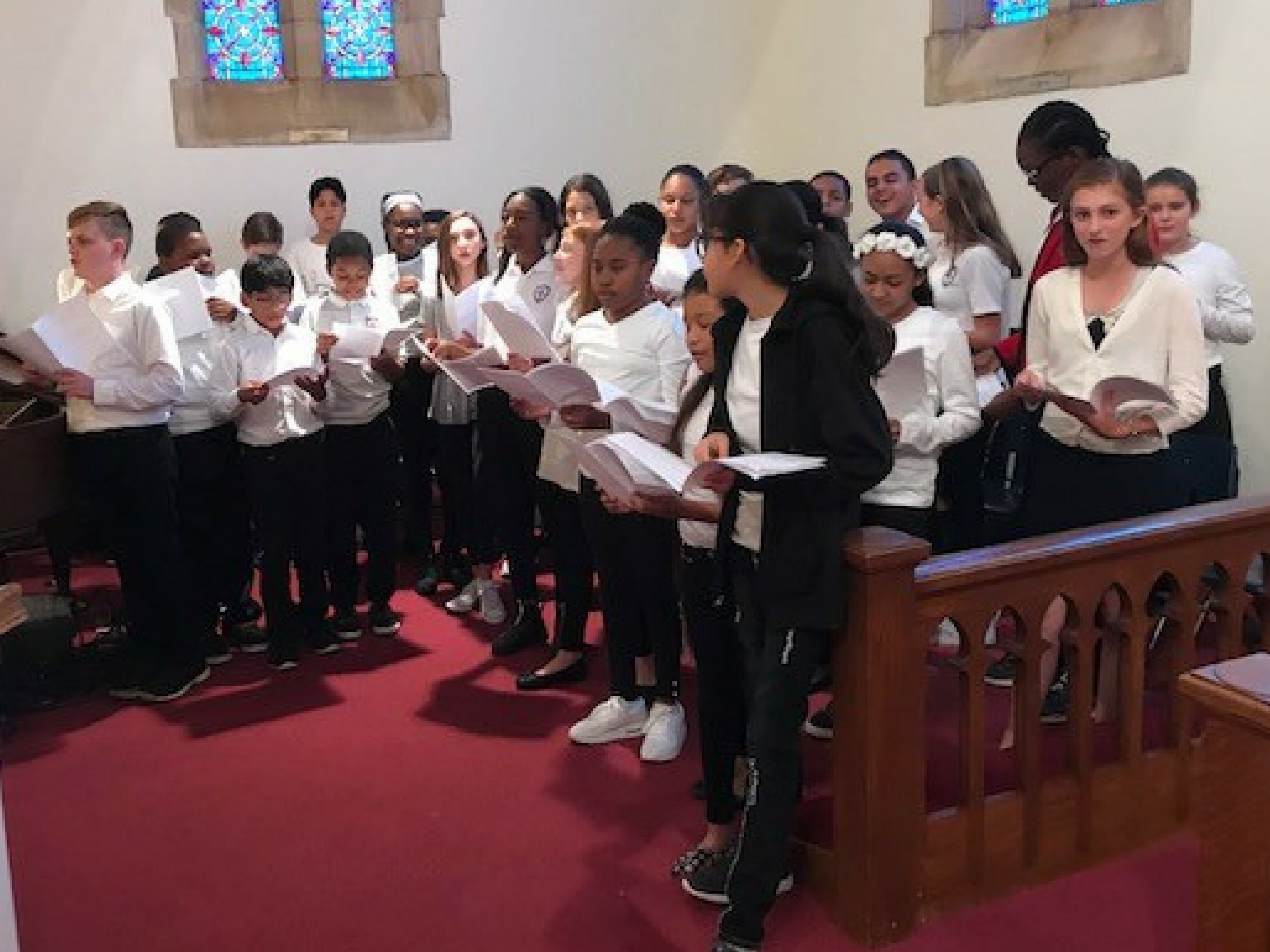 The meal that followed was a true Thanksgiving meal, prepared again by Chef Poole and an amazing group of Trinity volunteers. This year, church members volunteered to help with prep and service alongside the middle school students, so that parents and teachers could enjoy the time to sit with families and share a wonderful meal! Also shared with the beautiful decor on the tables was a prayer book which included a collection of our favorite prayers from classrooms across campus (link shared below).
During the meal, students from all grades/ages who are involved with dance lessons at Trinity presented a short dance recital for our guests. The performance incorporated both a group dance ensemble as well as hip-hop freestyle demo. These kids were amazing — encouraged to be brave and express who they are through dance and to be all that God has created them to be.
All told, we shared prayers and fellowship over about 80 meals off campus and about 800 meals on campus! That's a lot of THANKS-GIVING and Trinity Family Time! We're sure to have a full list of things to share in our prayers of Thanksgiving tomorrow when we celebrate a day set aside for "public thanksgiving and prayer, to be observed by acknowledging with grateful hearts the many and signal favors of Almighty God." (as stated in the first presidential proclamation of Thanksgiving in 1979).
Thank you for being a part of the Trinity Family, sharing the love of Christ with one another, and with others. This Trinity Family and Community wouldn't be what it is without ALL OF YOU!
YOU are invited to join us for worship tonight at 7pm, or Thanksgiving Day at 10am.
Happy Thanksgiving!
Whereas it is the duty of all nations to acknowledge the providence of Almighty God, to obey His will, to be grateful for His benefits, and humbly to implore His protection and favor; and—Whereas both Houses of Congress have, by their joint committee, requested me "to recommend to the people of the United States a day of public thanksgiving and prayer, to be observed by acknowledging with grateful hearts the many and signal favors of Almighty God, especially by affording them an opportunity peaceably to establish a form of government for their safety and happiness:"
Now, therefore, I do recommend and assign Thursday, the 26th day of November next, to be devoted by the people of these States to the service of that great and glorious Being who is the beneficent author of all the good that was, that is, or that will be; that we may then all unite in rendering unto Him our sincere and humble thanks for His kind care and protection of the people of this country previous to their becoming a nation; for the signal and manifold mercies and the favor, able interpositions of His providence in the course and conclusion of the late war; for the great degree of tranquility, union, and plenty which we have since enjoyed; for the peaceable and rational manner in which we have been enabled to establish constitutions of government for our safety and happiness, and particularly the national one now lately instituted; for the civil and religious liberty with which we are blessed, and the means we have of acquiring and diffusing useful knowledge; and, in general, for all the great and various favors which He has been pleased to confer upon us.
And also that we may then unite in most humbly offering our prayers and supplications to the great Lord and Ruler of Nations, and beseech Him to pardon our national and other transgressions; to enable us all, whether in public or private stations, to perform our several and relative duties properly and punctually; to render our National Government a blessing to all the people by constantly being a Government of wise, just, and constitutional laws, discreetly and faithfully executed and obeyed; to protect and guide all sovereigns and nations (especially such as have shown kindness to us), and to bless them with good governments, peace, and concord; to promote the knowledge and practice of true religion and virtue, and the increase of science among them and us; and, generally, to grant unto all mankind such a degree of temporal prosperity as He alone knows to be best.
Given under my hand at the City of New York the third day of October in the year of our Lord 1789.