Every month during the school year, the children enrolled in Trinity Lutheran School contribute money or goods to a charity or mission, or participate in a service project.  Over the years, hundreds of shoes, pounds of canned food, piles of school supplies, and many dollars for overseas missionaries have been collected by our students.  In December of 2014, they provided the Christmas meal and decorations for an Orlando men's transition center.  This December they chose to make 43 nativity set gifts for the single women and families
living at the Orlando Union Rescue Mission on Washington Street.
Using his gifts of time, talent, and a table saw, Trinity Lutheran Church member, Jerry Smith, provided more than 400 2 x 2 1/2 inch blocks of wood for this effort.  Trinity School students then added their gifts of time and creativity to color drawings of Mary, Joseph, baby Jesus, Angel, and star which were glued and decoupaged to the wooden blocks, and then placed the "figures" inside hand decorated storage bags.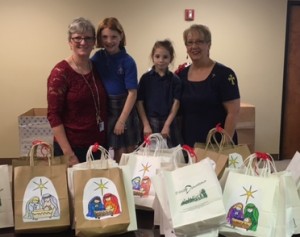 TLS first grade teacher, Peg Green, and Deaconess Liz Borth along with TLS students Faith and Elizabeth Green, delivered the gifts to the rescue mission on December 18, 2015.  Perhaps some children will hear this story for the first time because of Trinity's gift; maybe a woman alone and struggling to overcome past obstacles will find hope in this special bag of wood blocks.  No matter how God uses these hand made nativity scene gifts, it is evident our students are actively engaged in the Christ-centered education of TLS and are eager to share the story of God's love with others.