Trinity volunteers enjoyed another wonderful evening serving with Rebecca's Garden of Hope at Our Savior Lutheran Church. This wraps up one full school year of monthly service events that Trinity volunteers have staffed to support this local need for tutoring elementary age children.
Trinity volunteers contribute food/supplies to create the evening meal for kids and parents, provide meal service volunteers and serve as tutors with this terrific group of families. Celebrating the end of the school year, this meal was a cookout theme with grilled burgers and hotdogs, baked beans, macaroni salad, chips, fresh fruit with whipped cream, and a variety of desserts! Trinity's former interim pastor, Rev. Larry Schaefer, was particularly happy with the grilled burgers, "I don't think we ever had hamburgers here and it just made my day! What a Blessed day!" Pastor Schaefer serves on the board of Rebecca's Garden of Hope and is serving now as Our Savior's Interim Pastor.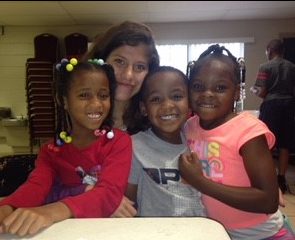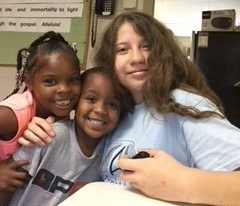 Trinity has signed on for a second year of serving once a month with Rebecca's Garden of Hope. Trinity's first Wednesday evening meal will be on August 22, and each month thereafter through the school year (with adjustments for holidays as needed). If you would like to participate in some way — there are several options. You can sign up for just one event, or several. For each event, volunteers can choose to serve by preparing/contributing part of the meal or supplies which can be dropped off at Trinity for another volunteer to pick-up to take to the event (a side dish, drinks, the main course, dinnerware, decorations, prizes – an online signup list will be provided in advance). You can also choose to volunteer at the service event to serve the meal and fellowship with families and/or sign up to tutor students in academic subjects for elementary age children.
THIS might be just the event for YOU to serve the Lord in a way that makes a significant difference in the life of a child! It matters! YOU are guaranteed to receive more from it than you give!! It is a joy serving as the hands and feet of Christ with these kiddos and their families! If you would like to participate, please call the office (407-488-1919 x101) and let us know how you would like to be a part of these servant events (at just one event, or several; dropping off supplies or attending to serve at the event — whatever level of participation suits your schedule!). Then, save the date of Wednesday, August 22 on your calendar, and watch your Trinity Weekly for sign-up information. Can't wait to see you there!