June 9, 2017 Nomination Committee Recommendations
Nominations Committee Recommendations
The Nomination Committee (NC) respectfully submits its recommendations to be voted on at our upcoming Voter's Assembly on June 25, 2017.
You may make additional nominations in writing to nominate@trinitydowntown.com or by letter received at the church office no later than 11:59pm June 18, 2017, at which time nominations shall be closed.
The nomination recommendation and final nomination time frames are slightly outside of the mandate of our bylaws. I take full responsibility. Please forgive me. It could not be helped, but should not hinder our due process.
Please continue to pray on this seeking the wisdom of the Holy Spirit to guide all our hearts and votes concerning those stepping up to a new role, those continuing on and those retiring after faithful service. We are blessed because of them, and we must remember that God Himself appoints all authority (Romans 13:1-2).
On behalf of your NC, I thank you for your prayerful nominations and concern for our beloved Trinity. Please also consider how you might be involved in Ministry Teams and support activities for the new fiscal year approaching. We are, after all, the ministers of TLCS! Our pastor(s) are the teachers, equippers and nurturers of the ministers! We are the workers! Let us not forget that it is our responsibility to be the willing and cheerful workers God created us to be (Ephesians 2:10).
God bless us...everyone!
Jesus Be With You Always!
Gregg Yawman / John Strandquest, Co-chairs
Mike Kunze (in lieu of the interim pastor), Kathy Aber, Bill Gouveia & Marcy Shively
Leadership Council
LC members are elected to 2-year terms to serve for no more than two consecutive terms in a single role; service will begin on July 1st, 2017, and run through June 30th, 2019. The following positions the NC (Nomination Committee) voted on to recommend to the Congregation.
President of the Voter's Assembly
Vice President of the Voter's Assembly
Kathy Aber - NC recommends
Finance Officer
School Board President
Bev Middleton - NC recommends
Two Members-at-large (Odd Years)
Maggie Bowles - NC recommends
Stephanie Landis - NC recommends
Additional Nominations for two Members-at-Large (Odd Years)
Bill Gouveia
Marcy Shively
Senior Elder (non-voting position)
Tom Finger - NC Recommends
*Finishing Current Two Year Term-- Two Members-at-large (even year election)
Elders Ministry Team
Elders are elected to serve for 2-year terms, for up to three consecutive terms. Senior Elder serves for 2-year term, no more than two consecutive terms. There are to be at least six and preferably 12 or more sitting Elders serving Trinity at any given time and the Elders Ministry Team can be expanded at any time to meet the needs of the congregation.
Senior Elder
Tom Finger - NC recommends
Current Elders Eligible to be Elected for New Term
Don Behrmann (confirms 3rd), Clay Bourgeois (considers 2nd), Brendan O'Brien (considers 2nd), Tony Ramiz (confirms 2nd), Gary Schumacher (confirms 2nd), Chris Gerou (confirms 2nd)
New Elder Candidates to be Elected for a New Term
Mike Kunze - NC recommends
Mark Brink - NC recommends
*Finishing Current two year term - Current Elders Continuing in Service (even-year election)
Ulysses Floyd (in 3rd), Steve Kerestes (in 2nd), Bob Trapp (2nd), Jim Curtis (1st), Rusty Stephens (1st), Ken Boggs (1st), Rocky Smothers (1st), Lo Phillips (1st)
December 11, 2016 Regular Voters Meeting
August 28, 2016 Special Voters Meeting, Annual Budget
On Sunday August 28, members of the congregation gathered at a special voters assembly to consider for approval the FY 2016-2017 Trinity Annual Budget. David Wilkosz, Trinity's Financial Officer, provided highlights for each Christian Operating Center as well as major ministry areas to provide clear insight and understanding of the various parts of the budget and how they influence how we engage in our mission and ministries at Trinity. Several informational presentations were made for the benefit of those in attendance. Bob Meyer provided information on the Faithfully Forward and Bridge to the Future campaigns while Bruce Hahn discussed Trinity's Shared Blessings Rebate program with the Lutheran Church Extension Fund. Finally, Tim Norris provided an overview on the status of proposals to utilize Trinity's portion of the Thrivent Choice Dollars.
A motion to approve the proposed FY 2016-2017 annual budget was affirmed by the congregation. Forty Seven members were registered to vote. A detailed copy of the approved budget can be obtained by contacting the church office.
August 28, 2016 - Special Voters Meeting Agenda
August 28, 2016 - Special Voters Meeting Minutes, Draft
Approved Special Voters Meeting Minutes 8_28_16
July 17, 2016 Special Voters Meeting: Senior Pastor Call
On Sunday July 17, 2016 at a special voter's assembly, the Congregation of Trinity Lutheran Church voted unanimously to offer a call to the Reverend Jacob May. Please refer to the Presentation for details of what was presented in this meeting.
May 21-22, 2016, Town Hall Meetings
Town Hall Meetings with Leadership
"Our mission is to proclaim the Gospel of Jesus Christ through ministries which strengthen and equip people for Christian witness and service in downtown, metropolitan Orlando, and the world"
TRINITY MINISTRY PLANS FOR 2016-17
When you're going on a trip it helps to have a destination and a roadmap to get there. The Ministry Planning Document being prepared by our Leadership Council and Ministry Staff is intended to provide a roadmap for our ministries for the immediate future. The version we're preparing for the 2016-17 fiscal year is intended to be flexible enough for our next Senior Pastor to adjust during the year.
The Ministry Plan begins with the stated mission and vision from Trinity's Constitution and Bylaws. The Leadership Council proposes major emphases for the coming year. The "Admin Team" (namely, Senior Pastor, General Manager, K-8 Executive Director, and CDC Executive Director) proposes plans for carrying out Trinity's mission and vision in their areas with special focus on our major emphases for this year. Every staff person and every ministry volunteer should be represented in these plans.
This year we're using the "Growth Goal" framework that grew out of the NLSA accreditation process to organize our ministry goals across the campus. (NLSA =
National Lutheran Schools Accreditation). Since a Ministry Plan is a "living document," we expect it to be improved and adjusted as we move forward. It's not "set in concrete." It's a ROADMAP so we all have a clearer picture of WHERE WE'RE GOING, and HOW WE'RE GOING TO GET THERE.
Contact: Leadership Council at LeadershipCouncil@trinitydowntown.org
TRINITY LUTHERN SCHOOL – INFANTS TO 8TH GRADE
This year, Trinity Lutheran School completed comprehensive accreditation process for both the Child Development Center and the K-8 program. The CDC has earned National Lutheran Schools accreditation and K-8 has achieved NLSA accreditation as well as Accreditation from Southeastern Association of Schools and Colleges. This has been a big undertaking for teachers, staff and volunteers, and the visiting accreditation team was extremely impressed with our programs.
The Accreditation report recognized the following Powerful practices:
Strong and responsive Governance/Administration, and
Caring guidance that enables us to claim "Every Child is an Honored Student"
And recommended the following Critical improvements:
Full audit of all Trinity finances within two years, and
Increased IT support on campus.
Also, this year, the School Board recommended and Leadership Council approved changes to the Employee Tuition Discount Policy increasing the employee tuition payment to 30%. This policy increases the employee tuition responsibility progressively to the target of 50% for the FY18/19 school year. In addition, Leadership Council has approved a 2.5% pay increase for all Trinity staff with the goal of getting salaries to the FL-GA District pay scale.
The strategy to improve enrollment in the K-8 program is to increase retention of VPK (CDC 4 yr-old) students into kindergarten to rebuild total enrollment. Each year, we are reducing the number of multi-age classrooms in K-8. We are expecting K-8 enrollment to be at 90 students this fall from 78 this year, which would be an increase of approximately 15%. At that rate, Trinity K-8 enrollment could be 120 students by 2018.
The Child Development Center is operating near capacity and shortly we will be adding a new Director of Education and a receptionist to the staff.
Contact: School Board Chair, Kathy Aber 407-929-2676 or kaber1017@aol.com.

TRINITY CAMPUS DEVELOPMENT TASK FORCE
Monday night this week, the Leadership Council approved the continuation of the Campus Development Task Force as a means of continuing construction/planning work for Trinity as was the original purpose of Century II Campus Development Task Force. Rocky Smothers has agreed to take a lead with this team when he returns from China in about 5 weeks. The beginning emphasis will be on restoring the old houses to residential rental units, which was to be part of CDC construction project.
The first steps in this work will be to obtain structural and hazardous material inspections, have discussions with the city on permitting and historic board requirements for the remodeling, obtaining real estate advice on market rental rates and desired interior finishes with a goal of completing a scope of work analysis and cost estimating by July 1. Other projects the TF can review are:
Loggia Roof Repairs,
Fellowship Hall,
Upstairs of New Century Center – design and build out,
Magnolia Building Renovation, Rental, Disposition
Prioritizing of Revitalization Work
Historic Grant Work on Sanctuary, School Building, Loggia (missed current grant application deadline for lack of follow-thru the last 2-3 years and no audit.
The following individuals have agreed to stay involved with the TF: Bob Blackwood, Matt Aber, Maggie Bowles, Kevin Brockberg, Bonnie Roby, Dave Wilkosz, Kathy Aber, Rocky Smothers and Tim Norris. The TF efforts will be coordinated with the GM-operations and will enhance Trinity's ability to advance the work on multiple projects over the next several years.
The TF is looking for new members who have interest and experience in design and construction. For more information or to volunteer, please call Kathy Aber at 407-929-2676 or email to kaber1017@aol.com.
TRINITY SENIOR PASTOR CALL
After pouring over biographical information, conducting extensive searches on the Internet, and engaging in hours of conversation and prayer, the Senior Pastor Call Committee was able to narrow down our list of nine candidates to the top four choices. Those four pastors were invited to participate in 30-minute video interviews with the Call Committee. We used this initial meeting to ask broad-based questions to get to know each candidate. Examples included: "How would you describe your preaching style?", "What traits make you an effective leader?", "Share a memorable moment from your current parish." Of these four, two stood out from the group and we then asked these two to join us for a one hour, in-depth video interview.
During this second round, we had the opportunity to find out more about the candidate's ministerial goals and ideas, his personality, and learn details that would help determine his fit with Trinity. After concluding the second round of interviews Thursday night, the Call Committee is pleased to share that our next step is to invite the following candidates to visit our campus and ministries;
Pastor Jeff Anderson currently serving Bethel Lutheran in Morton, IL and,
Pastor Jacob May serving at Emmanuel Lutheran in Hampton, VA.
Maintain vigilant prayer for Pastors Anderson and May, as well as Trinity, as we work to discern God's will for Trinity. Stay tuned for more information about when they will each be here and how you can interact with them during their visits!
Contact: Committee chair, Stephanie Landis at stephanie.landis@psiusa.com, or contact any Call Committee Member: Ted Lange, Jim Martin, Mike Kunze, Rocky Smothers, Bruce Hahn, Jennifer Blackwood, Mike Hofmann, Bonnie Roby
TRINITY OPERATIONS DEPARTMENT
In April, Leadership Council approved a proposal to move forward with major changes to how Human Resources and payroll functions are administered at Trinity. Trinity has taken on a Professional Employer Organization through Paychex HR Solutions. This is enhancing the Trinity employee's benefits in several different areas, not least that include:
A single source solution for all of our benefit and HR needs.
Offer all of our employees a broader range of benefits.
Single source for payroll and all aspects dealing with our payroll needs
A team of experts as an extension of Trinity's staff, including a HR professional, payroll specialist, and a Safety and Loss Representative
Any additional questions you may have, please contact
Eric Havens at 407-488-1919, ext. 108 or Eric.Havens@TrinityDowntown.com.
TRINITY FINACAL REPORTS
Our Mortgage Updated:
On May 13, 2016 Trinity consolidated and combined two loan held. First, the construction loan on the New Century II building at $5,683,807.00, second the Magnolia Property Loan at $1,973,807.62
The combined Loan Principle is $7,657,614.62, with a 20 year term maturing at May 13, 2036. The variable interest rate of 3.875% is held for first 13 months of the 240 monthly installments. The remaining 227 monthly installments the future variable interest rates are adjusted annually based on the LCEF cost of funds plus 2.5 percentage points. Monthly Installment are $45,900.21 per month.
Audit of Trinity's Financial Records
Trinity is scheduling an independent audit of the Balance Sheet and financial records for the fiscal years 2015 and 2016. This audit is scheduled to begin September 2016. Future campus development plans, school accreditation programs and as required by the By Laws.
Bridge Loan:
Trinity Leadership elected the option to utilize the full amount of the Bridge Loan arranged by LCEF at the beginning of the loan application at the start of the Phase 1 New Century II project. The total Bridge Loan made available to Trinity was determined by LCEF and set at $662,883.00. The terms of this loan is a three year balloon note with a variable interest rate stating at 3.875%. The Bridge Loan is secured by the LCEF Mortgage. The Bridge Loan matures May 13, 2019. Interest payments of $2,146.08 are due monthly, with the 36th payment paying the remaining principal. At that time Trinity will have the option to refinance the remaining principle of the Bridge Loan balance. This loan has a variable rate of interest adjusted on the same schedule as the permanent mortgage above.
In the construction phase of the New Century II building we were required to utilize $420,002 toward the project completion, paid $19,098 in pre-closing interest payments on the current loans. The remaining balance of the Bridge Loan at $223,782 was advanced to Trinity for additional capital projects from the Phase 1 campus development that were set aside to complete the core project being the New Century II building.
Our indebtedness to LCEF at the Loan closing is $8,320,498, combining the permanent loan and the bridge loan.
Our minimum interest expense to be paid over the life of the 20 year loan paid to term will be $3,358,580.
Our maximum interest expense to be paid over the three year life of the Bridge Loan could be up to $77,060.
Our plans to pay principle and interest on Bridge Loan will be achieved by a combination of the three items below:
Utilization of the proceeds from the LCEF Shared Blessings program,
Revenue stream generated from rental of the three houses, and
Remaining balance of the Faithfully Forward Campaign
Current year by Christian Operating Centers (COC)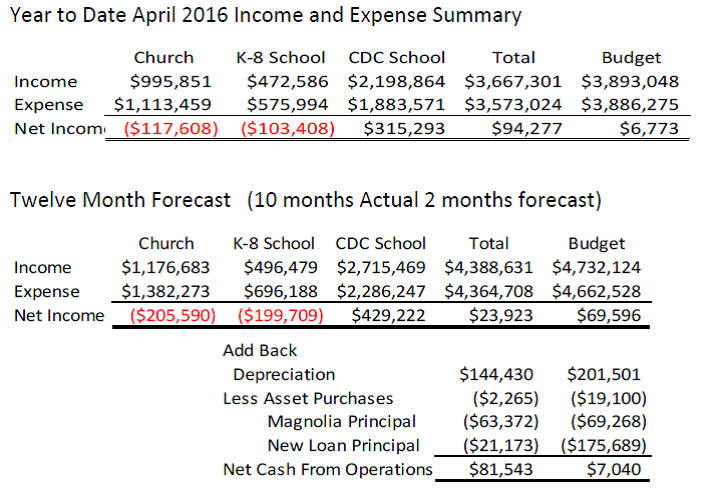 Current Year Ministry Giving: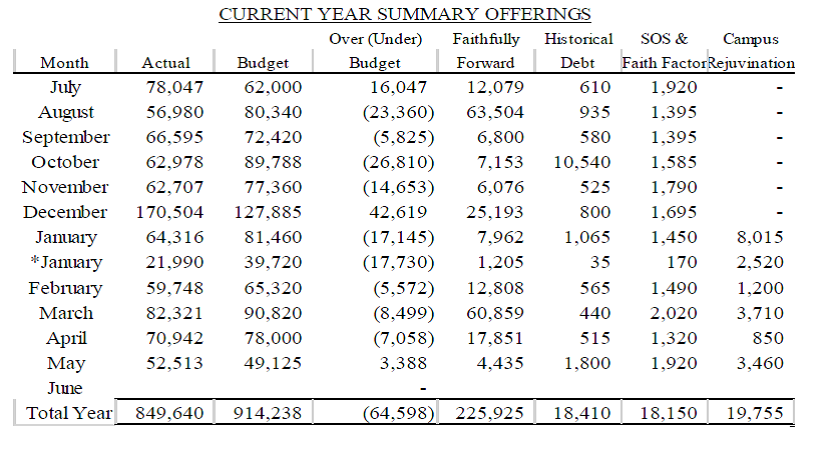 Fiscal Year Budget 2016-2017 (Preliminary)

Our goal is to present a zero balance cash flow budget to the Congregation for Approval at the June 19th Voter's meeting. Budget areas under construction are the Ministry offerings and pledges, maximizing the rental space of the Magnolia Property, the K-8 enrollment, the School benevolence and scholarships, and finally the update of the healthcare elections from staff from the conversion to the Paychex Professional Employer Organization (PEO).
Stewardship Campaign Results as of May 15, 2016
2015-2016 Operating Pledges........122 - $598,228
2016-2017 Operating Pledges........ 81.....$517,364
Difference...............................(41)..($80,864)
CONTACT: Trinity Finance Officer, David Wilkosz 407-760-2009 or dwilkosz1@att.net and the Trinity Finance Committee: Carolyn Burnett, Bob Gordon, Bob Meyer, Maggie Bowles, Eric Havens, David Wilkosz
February 21, 2016 - Regular Voters Meeting
August 9, 2015 - Special Voters Meeting
February 22, 2015 - Regular Voters Meeting
Trinity Lutheran Downtown
Regularly Scheduled Voters' Assembly Meeting - MINUTES
Trinity Lutheran Church Sanctuary
Sunday – February 22, 2015 – 12:30PM
Growing Together
Meeting Agenda
Welcome & Call to Order Rocky Smothers
Approval of Minutes – Regular Voters Meeting from November 30, 2014
Opening Devotion Rocky Smothers
Hebrews 11:1-7; 17-29; 12:1-2
Opening Prayer
Lutheran Church Extension Fund Bruce Hahn
Benefits to Trinity Membership Families
Update on Present Trinity Membership Participation & its effect on our Building Project
Sr. Pastor's Report Rev. Tom Zehnder
Presentation of 2015 Nominations Slate for Elders & Leadership Council Glenda Frazier
Review – Current Leadership Council / Upcoming Vacancies
Review – Current Elders of Trinity / Upcoming Vacancies
Nominations Slate proposed by Nominations Committee & Leadership Council
Nomination Consideration may be submitted by the Voters' Assembly:
Vice-Presidents' Report Stephanie Landis
Presentation of Recommended By-Laws Revisions
Availability of Information

Hard Copies
On-line Review
Suggestions for consideration By-Laws from The Voters' may be submitted:

Cut-off date is March 25, 2015
Board of School Ministry Report (written report click here) Kathy Aber
Early Childhood Development Patty Moser
K-8 Kevin Brockberg
Campus Task Force Update Kathy Aber
The building is on schedule to be completed on June 14 (112 days)
that will give Trinity 2 months to move in and get DFC approval in order to open
the CDC in its new home in August, simultaneously with the 2015-16 school year
and a grand ribbon-cutting/dedication ceremony.
The South roof (i.e. the flat roof) should be going on now, framing is 3 weeks ahead
of schedule and drywall should be going in within 3 weeks.
The Task Force is currently looking for a project manager to oversee the Gym Project
which includes: (1) a new roof, (2) new flooring, (3) A/C work in the locker room area,
and (4) interior and exterior painting
Individuals have been approached to lead this upcoming project and we are hoping
to have this person in place within 2 weeks. The work needs to be completed from
June 14- Aug. 14 (start of school)
Orange house on Amelia should be demolished shortly. The first step in the teardown
was the removal of asbestos shingles, which required special environmental services.
The final house should be lowered onto its foundation within the coming two weeks
and then Doster will begin the soccer field work.
Another thanks to Bob Blackwood for arranging a contract with Landmark garage
across the street for temporary parking for staff during this last phase of construction.
Parish Financial Report Bob Meyer
Financial Update for FY2014-2015 thru January 2015 Month-end
"Faithfully Forward" Capital Fund Drive Update & Status
Presidents' Report Rocky Smothers
Temple Talks by Congregational Leaders
Upcoming Congregation Opportunities to participate Parish Ministry

Recruiting Members for volunteer service on Ministry Teams
Soon the following Ministry Teams will begin organizing:

Evangelism
Stewardship
Fellowship / Small Groups
Youth Fellowship
Campus & Property Management
Media / Public Relations

May 2015 Congregational Stewardship Campaign

Consecration Sunday on May 31. 2015
Adjournment & Close with the Doxology
Notes & Meeting Protocol:
All eligible voters (Communicant members, age 18 and up) sign roster attendance roster. *Votes Required.
In order to make the most productive use of the two and one-half (2.5) hours allotted for the Voter's Meeting, the following procedure will be announced by the chair where "in order" motions have been made or are anticipated:
1 – A maximum of ten (10) minutes of discussion or Q/A total per agenda item (as announced/published); except where approved by Voters (simple majority) to extend for an additional 10 minutes.
2 - Voters who desire to be recognized by the Chair to speak, please stand to be queued to gain access to the "floor microphone." Once recognized, each individual will have a maximum of two minutes to address the Voters.
3 – Speaking time limits of individual Voters recognized by the Chair, or Q/A limits will be kept and announced by Parliamentarian/VP.
4 - When the total discussion time limit is up, the chair will recognize (further) motions ("I move that…") and proceed according to Roberts' Rules of Order. Our By Laws specify that the VP is the permanent Parliamentarian.
The next regular Quarterly Meeting of the Voters' Assembly is scheduled for sometime during the mid-to-late March 2015 timeframe.
November 30, 2014 - Regular Voters Meeting
Trinity Lutheran Church
Regularly Scheduled Voters' Assembly Meeting - Minutes
November 30, 2014
Welcome & Opening Rocky Smothers
Approval of Minutes for June 1st & 30th Meetings Rocky Smothers
Motion to accept the minutes-Susan Roby & Jeff Alexander
Motion passes unanimously
Opening Prayer & Devotion - Hebrews 11 Rocky Smothers
A Chapter on Faith

By Faith We Understand
Faith at the Dawn of History
Faithful Abraham
The Heavenly Hope
The Faith of the Patriarchs
The Faith of Moses
By Faith They Overcame
Lutheran Church Extension Fund (LCEF) Bruce Hahn & Dan Reichard
Trinity is eight (8) investors away from meeting first Congregational Investor Level threshold, which gives about $12,000 rebate on our loan yearly!
There are more thresholds which can generate up to $36,000 annually; Based on number of congregation member investors, not the investment total $$ placed.
Trinity's LCEF Investor Status is achieved in three ways:

Transfers to Trinity from sister congregations
Adult Trinity Members become active LCEF Investors
Young Trinity Members under age 18 become LCEF Investors.

The Goal – To achieve 100% participation (or as close as possible) of Trinity Membership to become LCEF Investors!!
Meeting this goal will result in the Trinity's Mortgage being reduced by more than $700,000 over the payback life of the total $8.6M loan amount
This is an opportunity to good to pass up, so let's all open and LCEF Investor Account for the $25 minimum and sign up as soon as possible!!
Trinity Shares Christmas Glenda Frazier
This annual Ministry Outreach will touch the families and children of incarcerated adults
As in past years, "gift tags" will be available to pull from the "Angel Tree" located in the Narthex, for fulfillment and return by the specified date prior to the event
Gifting opportunities include food, gift cards to Publix, gifts for children of incarcerated adults
Upcoming Nominations of Trinity Officers Glenda Frazier
Traditionally, elections for Leadership Council and ratification of Elders take place in the June Voters' Meeting.
This "tradition" is being changed to achieve an improved, more synergized transition for newly elected Leadership Council members & ratified Elders, providing opportunity for proper on-boarding and immersion into their positions.
For the 2015 Elections Cycle, the schedule will be as follows:

Nominations Slate for Leadership Council & Elders will be presented in the February 22, 2015 Voters Meeting by the Nominating Committee
The Congregation Membership will have until March 27, 2015 to submit additional names for consideration to the Nominating Committee for potentially being added to the Nominations Slate of Elders and Leadership Council.
Elections for the open Leadership Council Positions and ratification of Elders will be held in the Voters' Meeting scheduled for Sunday – April 19, 2015

Presently, two additional members are being sought to participate on the Nominating Committee
Youth Glenda Frazier
In the absence of adequate funding for a campus family & youth pastor, several members have stepped up to help out and have taken on the responsibilities to support and be of Christian service to our Youth.
Please contact the Church Office if you have a Middle School or High School Youth to be included in these youth group activities.
Laura Ramiz & Michael Miessler were introduced as the primary High School Youth contacts.
Laura Ramiz presented the desire, and goal to get the Trinity high school youth organized into a group and to build the group into community.
Upcoming plans include a social outing once a month
The immediate need is to help getting of the youth's names and contact information.
Future plans would also include a webpage also.
Short term activities will be a Christmas get together, as well and attending The Gift.
Elders Mike Kunze
Brought forth the Nominations to ratify three (3) Trinity men to serve on Board of Elders to fill current-term vacancies:

Clay Bourgeois
Tom Finger
Gary Schumacher

Motion to approve was offered & seconded
Voters' Assembly unanimously approved.
By-Laws Review Committee Stephanie Landis
The Review/Update Committee has been working on the by-laws update for approximately six months, and are very much nearing completion.
Presently, By-Law amendments are under review and will be completed in December.
The schedule of the By-Laws Committee is to:

Present to the Leadership Council in January 2015 for review & approval.
Present to the Voter's Assembly in the February Voters' Meeting for consideration
Vote to ratify the By-Laws Revision during the April 2015 Voters' Meeting
School Ministry – Early Childhood & K-8 Kathy Aber
The Early Childhood Development Center currently has 212 children enrolled; which is fully capacity; and have an active waiting list
The K-8 School Program has 79 students enrolled; the 2014-2015 Budget was based on 70 students; so everyone is very positive about this enrollment.
Marketing programs for our School have started advertising in local educational magazines with high-quality advertising for our programs.
A video was produced on the School's Halloween parade and shared with Parents, and the Congregation, with the little and big kids together to show the strength of the total numbers
The recent Kindergarten Round-Up was themed "To Infinity and Beyond; with the" Thanksgiving dinner prepared, face book page filled with stories of the children, parents, and grandparents.
Our current principal - Dr. Brockberg – has a contract that will conclude in July 2015

The School Board has made offers for continuing his contract for the coming school year and beyond; which he is prayerfully considering
However, Dr. Brockberg has expressed his interest in continuing his education career working overseas

The need to initiate the process to start a call committee for a new principal will be needed, should Dr. Brockberg determine to return overseas.
A motion to initiate the process to organize a Call Committee was offered by Stephanie Landis; the motion was seconded by Carolyn Burnette & Diana Meyer.
The motion passes unanimously
For the coming 2015-2016 School Year, the School is anticipating splitting 1 & 2 grades, and there will be interviewing forthcoming for that Teacher position.
Efforts are continuing and moving forward to create a database for Alumni of Trinity Lutheran School. There is on-line work currently being completed by Darlene Sabin.
Campus Building Update/Task Force Kathy Aber
Bob Blackwood goes to the bi-monthly construction meetings with Doster Construction (General Contractor) and handles the day-to-day business and budgeting questions
The Early Childhood Center Construction project is on schedule- June 8th target date
The "temporary" old portables will remain in place untill building is ready so children can move right in. Thereafter, the portables will be removed for the final phase of construction of traffic ways and parking areas to be completed.
Soccer field will be restored by late June / early July based on the current scheduls
West side work –roof on gymnasium and floor from flooding will be completed post-construction project.
The cost of the water damage to the Gym Floor will be covered by insurance.
Will have 8 weeks after construction is finished before need to start school to finish gymnasium projects. Also have to repaint inside and outside gym.
Houses are all about down into their new space. Then utilities will be hooked up and designs to remodel need to be worked up.
Finance Bob Meyer
Finance report out on the P&L statement was given in detail
The forward-looking Cash-to-Expense Forecast is presently on target, but is very tight out front with little-to-no room for variances to income streams
Facilities might be unavailable because gymnasium work not done till June
Historic Debt Income Initiative – To date, contributions of approximately $25,000 have been received to retire an old "borrowing note" of $72,000 from years ago.
An on-going Cash flow reserve of at least $200,000 is necessary to maintain regular expenses through the summer when tithes & giving traditionally become soft.
Senior Pastor's Report Rev. Jeffrey Moore
State of Parish-

There are many things going and moving in the right direction here at Trinity, like:

Presently our giving and expenses are within the Budget
Giving on the Faithfully Forward Capital Fund drive are ahead of schedule
The construction & building project on target for the opening date of June 8th

On the other hand. There are many things at Trinity going in the wrong direction:

Worship Attendance is down by two-thirds of what it was seven years ago
There is a real mismatch between the ministry needs of Trinity, and the gifts that God has blessed me with.
I love the people and what happens on the weekends and I feel loved, but it is time for Trinity to move forward in a new direction, and also for my ministry to move to the next phase.
I feel the release from God and feel at peace
Pastor Moore, will be starting on sabbatical after December 29th with Lisa and then will retire at the end of June.
Moving Forward by Growing Together Pastor Billy Brath
Reminisced on past ministry experiences with Pastor Moore
Rev Brath and Pastor Moore will continue to work on sermon series together through December
Moving forward – looking to work with Leadership to conduct ministry together, and the preparation and process to call a new Senior Pastor
Upcoming – "The Gift" – A Trinity Event for which Mayor's office is big on supporting and one of the city events/functions for the year claiming as one of their "own!"
Live UCF-direct ministry of Trinity, sister congregations, and the district-meet on Wednesday evenings,1/3 of budget comes from the district and the rest is direct from private support & contributions
One Sunday a month I preach at a sister congregation
Finance Committee & Salary Review Committee Rocky Smothers
Finance Committee – This team will led by Carolyn Burnette, tasked to:

Support the Finance Office in key ministry activity areas
Seek out opportunities to fund Trinity's Education Ministry
Review & recommend investment opportunities for current fund assets

Salary Review Committee – This team will be led by Susan Roby, tasked to:

Look at Trinity's current salary structure for all Staff
Review Trinity's current structure to:

The Florida-Georgia District Guidelines
Other area Lutheran Congregations similar in scope
Other area Christian Congregations similar in scope
Make recommendations to the Leadership Council to bring consistency to our Salary & Wage scales, based upon criteria and metrics of education & experience
Transition Period Planning Rocky Smothers
Pastoral:

To extend an offer as Intentional Interim Pastor to Rev. Tom Zehnder, who is:

A former president of the Florida – Georgia District of the LCMS
The former Executive Director of the L.C.M.S. World Missions
In conversations with Pastor Zehnder, he has "agreed" to accept the Intentional Interim Senior Pastor position if asked

Motion from Rocky Smothers to ask Pastor Zehnder to be our intentional interim pastor for a period of up to three (3) months, which could be mutually agreed for renewal, or be renewed as needed.
Motion was seconded by Mike Kunze.
Discussion to not put a time limit on the call, ability to guide on the call for a new principal, etc.
After discussions, the question was called by Rocky Smothers; and ensuing a-unanimous vote to issue a call for an unlimited time period to Pastor Tom Zehnder as the Intentional Interim Senior Pastor.
Music Ministry Concern:

A large void will be created by Lisa's departure
Presently, many Lutheran universities are not providing as many candidates to fill positions as Music Minister, who are trained in Classical Church Music with focus on Liturgical Worship. So it may be a while before this position is filled with the level of professionalism given by Lisa.
There is presently a list of organists who have substituted at Trinity in the past, so Worship Music will be there, uninterrupted.
Someone from the Parish Bell Choir might step forward to lead the bells continuing forward.
Long term is to try to find a student from the universities or might need to call from another church
Meeting Adjournment with Singing of the Doxology Voters' Assembly