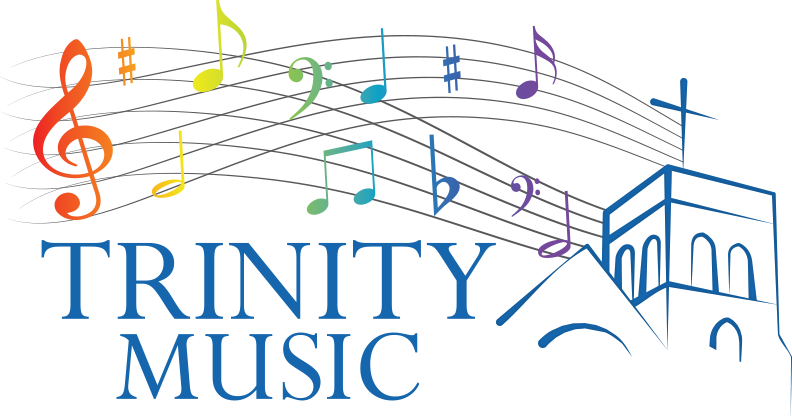 Bells & Choir
Let's Make A Joyful Noise!
In Psalm 100, we're instructed to "Make a joyful noise unto the Lord, all ye lands. Serve the Lord with gladness: come before his presence with singing and ringing." Well, maybe we've taken a little creative liberty with adding ringing, but none the less, the choir and bells of Trinity love to make a joyful noise.
Parish Choir – Rehearsals are held in the church basement Wednesday evening at 7:30 pm, except during Advent and Lent when we meet at 7:50 after the evening service. Please join us – if you love to sing and you love God, singing in the choir is perfect for you! No prior singing experience is needed, just a willing heart. To join or find out more, contact Paul Soost at sooster67@yahoo.com.
First Floor Once In A While Choir (FFOIAWC) – the name says it all! This choir is for everyone (men and women, teens and adults) who wants to praise God with singing but cannot make a weekly commitment and/or has trouble getting up to the balcony. We practice once a month and sing once a month, alternating between the early and late services. We do not have a set schedule for rehearsals; please contact Glenda Frazier at whitemice@bellsouth.net for the next practice date and time.
Children's Choir – We love hearing children express their love and faith through singing, and Julia Malenke, our children's choir director, is making that happen! Any and all children in K-5th grade are welcome to participate in Trinity's Children's Choir. Mrs. Julia Malenke leads this choir which meets on Wednesdays during the school year from 4:30-5:15pm in the church music room (basement of the Sanctuary). To find out how your child can participate, please contact Mrs. Malenke at jmalenke@trinitydowntown.com.
Bells – Rehearsals are held in the church balcony Wednesday evening at 6:30 pm, except during Advent and Lent when we meet at 6:00 pm. We have room for more ringers, especially alternates! To join or find out more, contact Glenda Frazier at whitemice@bellsouth.net.
Make a More Joyful Noise Choir – a couple of times a year we extend an invitaion for anyone and everyone to join the choir for a quick rehearsal and then to sing in a worship service together! It's a fun time. Watch your weekly news for the next invitation! Below is a photo from our May 2018 group along with regular choir members. It was so much fun!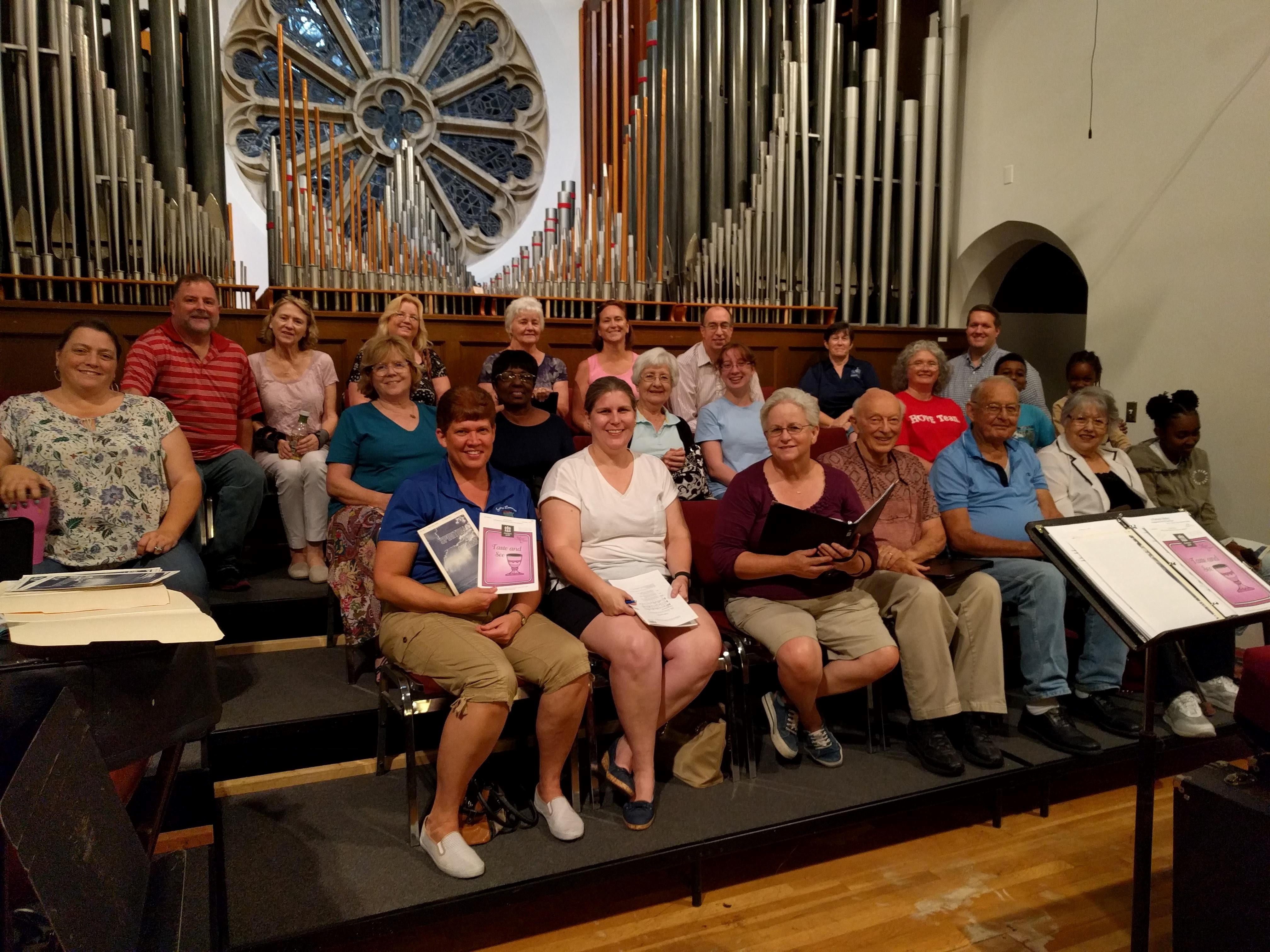 Make a joyful noise unto the Lord, all ye lands. Serve the Lord with gladness: come before his presence with singing and ringing. Psalm 100:1-2
Musicians
Our worship services use the gifts of musicians of all kind. If you play an instrument and would like to share your talents in worship, please contact Glenda Frazier for more information at whitemice@bellsouth.net.
Worship Band: If you are interested in playing or singing in our 9:30am worship band, please email the church office at TLC@TrinityDowntown.com.
Music Ministry Team
Tim Conyers
Praise Band Director, Sunday Traditional Worship Organist
bio coming soon
David Ludwig, Jr.
Saturday Worship Organist
bio coming soon
Paul Soost
Paul Soost – Choir Connection
Paul Soost joined Trinity's Parish Choir prior to becoming a member of Trinity Downtown! Paul has sung with church choirs since he was in kindergarten and finds the view from the choir loft preferable to sitting in the pews on the main level. By day, he's a marketing professional for a nonprofit organization. He's also a member of the Fellowship Ministry Team at Trinity Downtown. If you want to have a better view in church, enjoy singing (notice he didn't say you have to sing well), and want to meet some great people, please email Paul at sooster67@yahoo.com for details on joining Trinity's Parish Choir. Psalm 96:1 ~ Oh sing to the Lord a new song; sing to the Lord, all the earth!
Glenda Frazier
Glenda Frazier – Church Music Coordinator, Handbells Connection
Glenda was introduced to the amazing world of music at age five when her mother started giving her piano lessons. Over the many years since then, she has continued to play the piano and has sung in community, college, and church choirs; substituted (joyfully, albeit reluctantly) for the organist; and learned to play handbells. Glenda coordinates the music selections and schedules for the Parish Choir and Handbell Choir, accompanies the Parish Choir, and directs the Handbell Choir. She is retired from the defense industry and is happy being a professional volunteer. whitemice@bellsouth.net Psalm 104:33 ~ I will sing unto the Lord as long as I live: I will sing praise to my God while I have my being."
Julia Malenke
Julia Malenke – Children's Choir Director
Mrs. Julia Malenke earned her Lutheran Teacher's Diploma and B.S degree from Concordia University in Seward, NE and her M.S. degree in Guidance and Counseling, K-12, from the University of Wisconsin-Stout in Menomonie, WI. She has had the privilege of teaching in Lutheran Schools in Wisconsin, Georgia, and Florida and has also served in children's and youth ministry, Christian education, counseling and women's ministry. She is blessed to be the wife of Daniel, mother of Erin and Lauren, and the enthralled grandmother of Madison Joy and Elijah. Her greatest delight is found in walking with Jesus and in experiencing the light of His love as it shines through His children.  In addition to being the Children's Choir Director, Julia also serves in Trinity's school ministry as the CDC music instruction and also on the Pastoral Team overseeing the Children and Youth Ministry Teams.   JMalkenke@TrinityDowntown.com
Trinity's Music Ministry Blog
We are blessed to have a variety of musical talent at Trinity. In addition to our wonderful organists, Carol Eichinger and Sandy Zaccagnini, we have several choirs plus instrumentalists and soloists. Here is a calendar of our musical offerings from Advent...
read more