Baptism is a gift that we are honored to deliver to God's people. So many young families have come to us through church membership, guest connections and the school ministry this year with an interest in learning more about baptism – what a blessing!  What follows is a bit more information about baptisms at Trinity Downtown.
What does the Bible say about Baptism?
Jesus tells us "Go therefore and make disciples of all nations, baptizing them in the name of the Father and of the Son and of the Holy Spirit."  – Matthew 28:19.  Scripture teaches us that "we are buried with Christ by baptism into death, that, like as He was raised up from the dead by the glory of the Father, even so we also should walk in newness of life." -Romans 6:4  Jesus commands us to make disciples of all nations, all people on this planet, regardless of culture, gender, academic success, social standing, or age.  Remember who He died for:  "For God so loved the world, that He gave his only Son, that whoever believes in Him should not perish but have eternal life."  -John 3:16
Who do I talk to about Baptism?
You can reach our Senior Pastor, Jim Martin or our Ministry Coordinator, Chanda Gillenwater by calling the main number at 407-488-1919 or email TLC@TrinityDowntown.com.  If your child is enrolled at Trinity Lutheran School, you may also contact your child's teacher to ask questions and get additional information.
Do I have to be Lutheran or a Member of the Church?
No. All are welcome!  In fact, being baptized at Trinity doesn't make you Lutheran, it makes you a Child of God!  If you, your child, or other family members are not baptized, we invite you to contact us! We look forward to talking to you about this wonderful gift from God!
What Should I Expect?
Earlier this year, two of our Trinity families had their children baptized during Sunday worship, and offered to share their experience with others: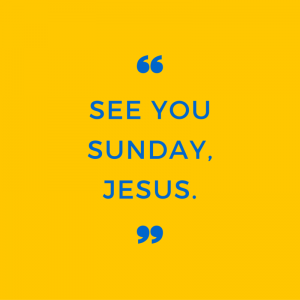 The Baptism experience at Trinity was one of openness and embrace. The information provided beforehand from Pastor Martin was very informative – what to expect and what it means to be baptized. Pastor Martin's warm and welcoming manner helped my daughter feel comfortable. Afterwards we were given a beautiful certificate, medallion and candle.  What made the process so open was realizing that by having my daughter baptized it does not mean she is a Lutheran but she is now a child of God. My family has come to embrace Trinity [just] as Trinity Lutheran Church has come to embrace us as we now attend church regularly on Sundays. My daughter looks forward to that time – spending it with us and Jesus. As we drive past the church from school she waves to Jesus and tells him, "See you Sunday, Jesus."  (Trinity Lutheran School CDC parent, Lanie Pividal)
Pastor Martin was new to Trinity Lutheran Church when we were considering baptizing our daughter. He was able to make my husband and I feel comfortable about the idea, without concentrating on the different backgrounds of our families, which I assumed would make the process harder. We were honored to have Pastor Martin baptize our daughter. The education was very helpful, and the actual baptism during the normal church service, with at least 100 people in attendance showing support and warmth made it even more special. (Trinity Lutheran School CDC parent Laura Sikonia)
How do I schedule a Baptism?
It starts with a meeting between you and the Senior Pastor!  In the case of infant and child baptisms, the pastor meets with the parents and the child.  During the meeting, you will learn about the Sacrament of Baptism, the Baptism service itself, and talk through any questions or concerns you might have.  Baptisms usually occur during Trinity weekend worship services or during school Chapel, but special arrangements are also made when needed.
Upcoming Baptism Celebration during School Chapel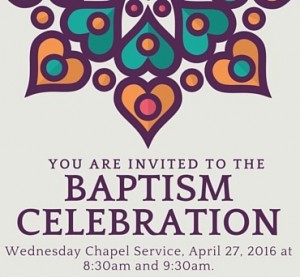 Join us for a special opportunity coming up on Wednesday, April 27, during the Baptism Celebration Chapel services. In Chapel that morning Pastor Martin will put a little water on the forehead of baptized students as a reminder of their baptism. Children who are not yet baptized, or who have been dedicated will receive a special blessing. Six children will be baptized into faith in Christ during Chapel that morning as well, and we're waiting to hear back from several more who have expressed interest!  If you'd like to learn more, please don't hesitate to contact our ministry staff or your child's teacher ASAP.  Please pray that many young lives will be blessed!!!