On Wednesday, April 27, we celebrated Baptism! We saw hundreds of smiling faces. Two different school chapel services. Eight children baptized. Every student from 3 years through eighth grade heard about how God saves – through baptism. By far, the best part of the morning was the assurance of God's love, His promise of forgiveness and a home in heaven.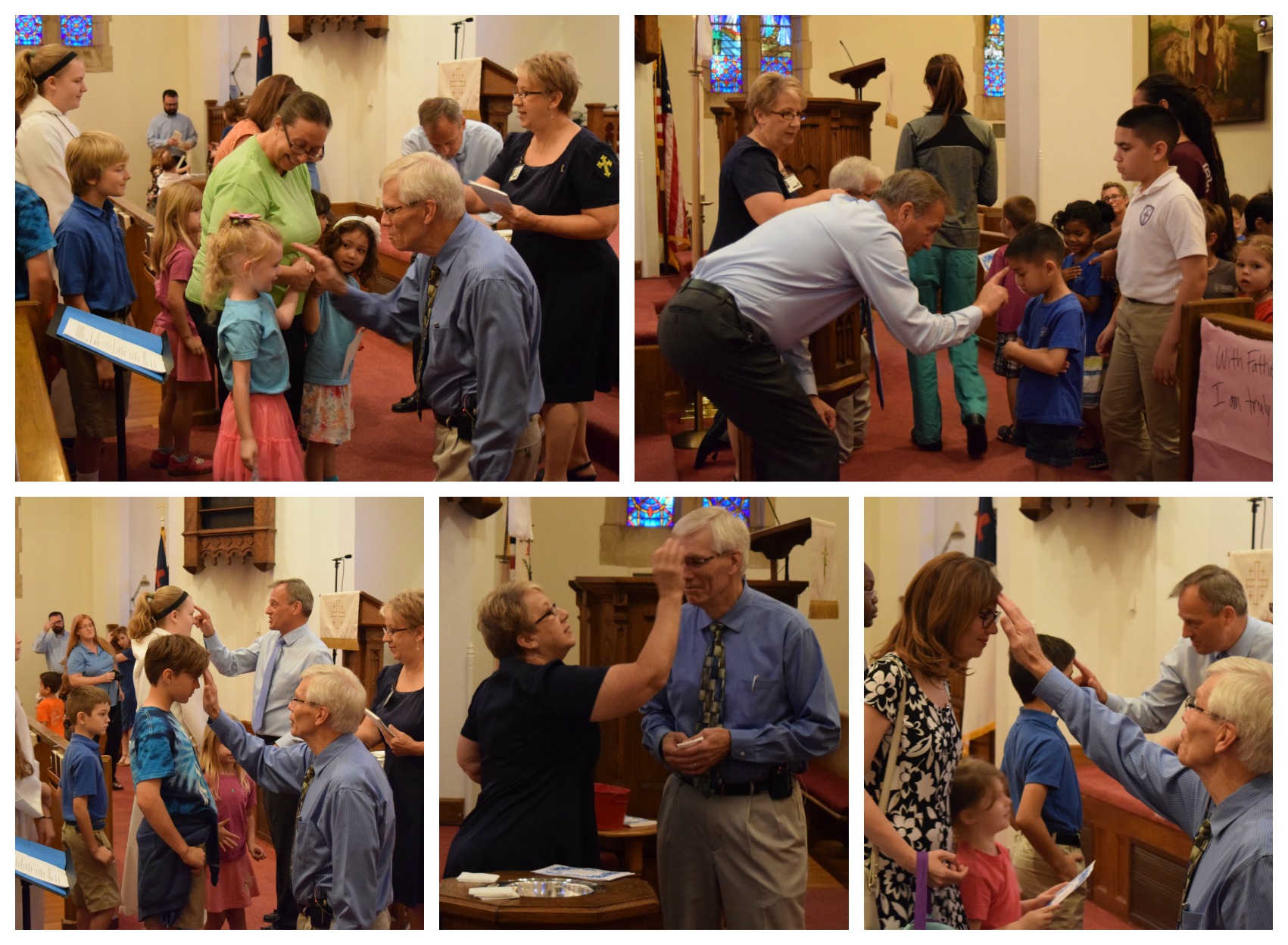 For those already baptized, Pastor Martin, Deaconess Liz Borth and K-8 Executive Director Kevin Brockberg put a little water on the forehead of each person as a reminder of their baptism – for students, parents and guests as well. For those not yet baptized, or who have been dedicated, they received a special blessing.  All received a celebration of baptism certificate as a reminder of this meaningful worship service!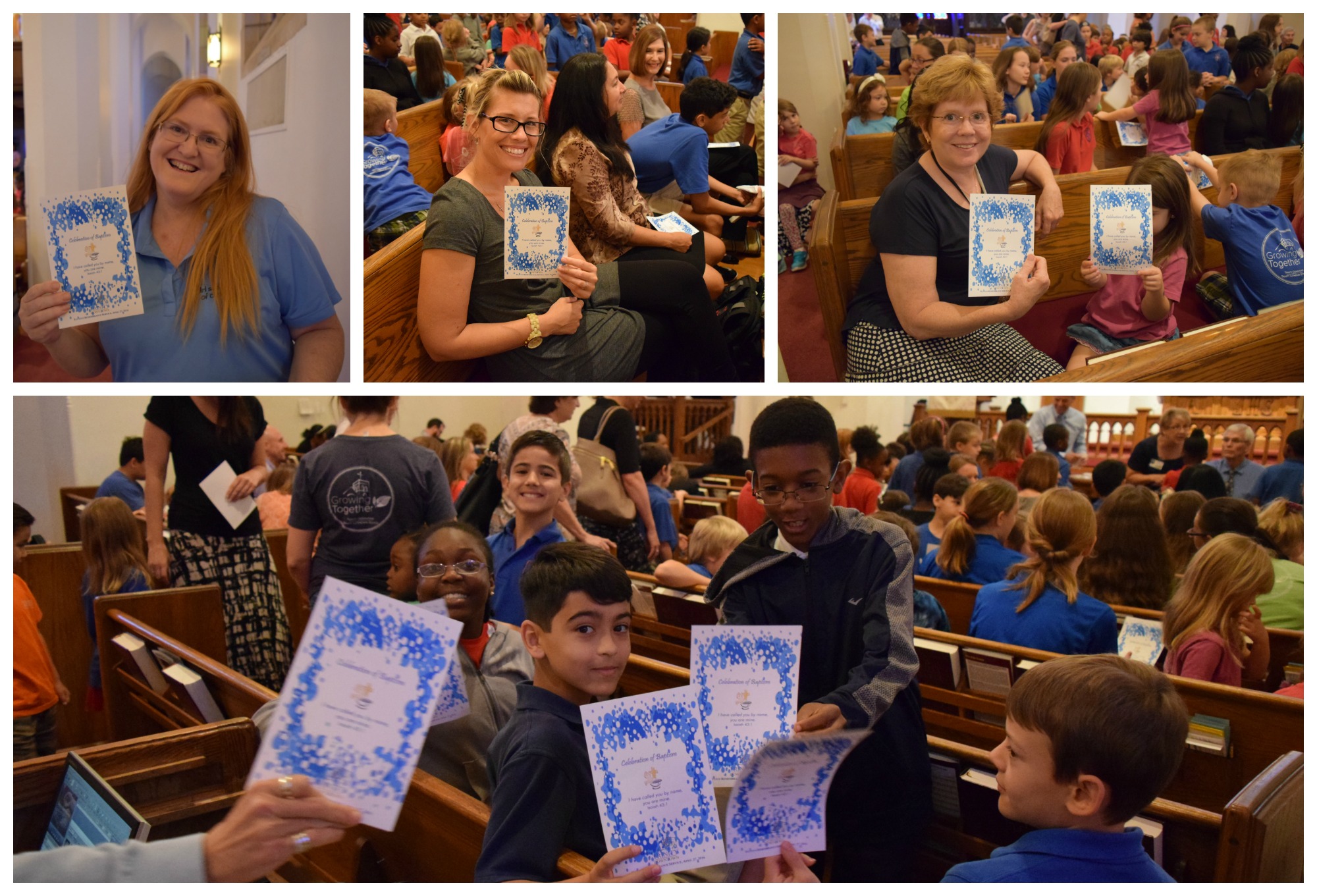 In addition to those special baptism remembrances, there were eight children baptized into faith in Christ during Chapel that morning! Several more have expressed an interest to be baptized later this school year!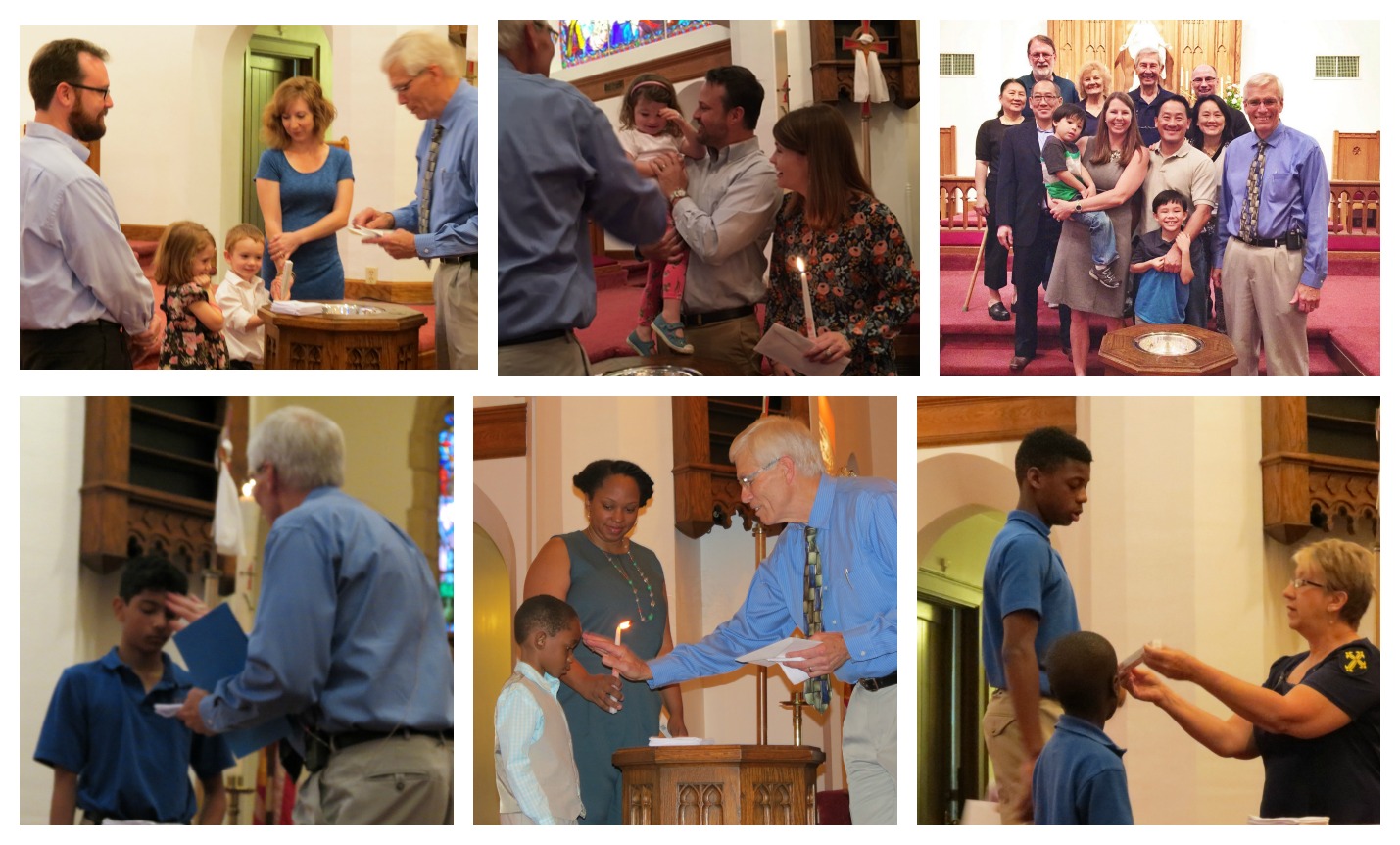 Trinity students started a new tradition for Chapel Baptisms to support fellow students being baptized.  Just as God declares, "I have called you by name!" (Isaiah 43), classmates chorused the upcoming miracle of grace with this song:
His name is (child's name),
God created him, to be someone special, that's how it's meant to be
With Father, Son, and Spirit, through water and the Word,
He is truly special, he is God's child today.
The children sang this "call by name" verse for the boys and girls as each walked to the Font to be baptized.  And just as in a Sunday baptism, a celebratory candle and an embroidered handkerchief were given to each, accompanied by a baptismal certificate.
It was a special morning for everyone on campus.  Many were moved by this special day and are sharing photos and experiences with friends and family, spreading even further the news of how baptism saves!
What a glorious morning to see my boys be baptized into his Holy Father's Family. It was a heartfelt and incredible moment to hear both [boys] say, "Yes, I want to be a part of God's eternal family." Many thanks to all the ministry and staff at Trinity Lutheran Church and School for making this special day happen. I am sure there is party happening somewhere in heaven today!
I had the privilege of meeting with many parents and I was struck by how ready they were to help their children grow in their faith, especially when a specific opportunity is presented to them, like being baptized in a school chapel.  Every one expressed appreciation that we really want to come alongside of them and support them in their spiritual journey.  We're blessed to have administrators, ministry leaders and teachers who work so well together to help all our families discover the blessings of baptism. We're even more blessed to see these children and families take such a big, beautiful step forward.  Thank-you, LORD!
There is something extraordinary, emotionally engaging, perhaps I could say "supernatural" about  witnessing the sacrament of Baptism.  I boldly admit that I shed tears whenever Pastor pours water over the head of a baby, a child, or an adult, for the presence of the Holy Spirit is overwhelming.  This morning, our regular Wednesday School Chapel services were far from regular – the waters in the baptismal font were empowered with the Word of God and eight students came forward with parents and family to drown their old self and become new and transformed members of the family of God.  Friends, fellow students, and teachers shared this amazing and joyous commitment to Christ as they remembered their own time in baptismal water.  This sacrament may appear ceremonial, but it is indeed a sacred act in which God seals his promise of forgiveness of sins.  Baptism is a personal connection with our Triune God, yet it is also a community bond with every Christian in Trinity Lutheran Church, as well as Christ's church throughout the world. Today  I'm on a Holy Spirit "high" that  I share with others all over the campus!
It was such a privilege to see three children baptized in our 3 yr old chapel, and watch all the other children thoroughly enjoy the celebration. We hope to see more families moved to have their children baptized in the near future!